For many, the '90s was arguably the best time for movies, television, and pop culture. This decade brought us some of the most talented (not to mention best looking) female celebrities that became icons for their talent and ability to capture attention every time they stepped on screen. From Kate Winslet to Kelly from Saved by the Bell, these fabulous ladies of the past are doing big things today. Find out what your '90s girl crushes look like today, and what they have been up to for the past few decades.
1. Tori Spelling's Life Has Been Anything But Normal Since Her Days On 90210
For the entirety of the '90s, Tori Spelling played the iconic Donna Martin on Beverly Hills: 90120. She was riding high on stardom throughout the decade, and she became a teen icon. She was born into fame as her father was a Hollywood casting director who got her the 90210 part. In recent years, Spelling is better known for being herself rather than any role she has played. She had a reality show with her husband Dean, and she recently started to rebuild her relationship with her mother after years of not speaking. The rift between the two had begun after her father passed away, when her mother had cut Spelling from the will. 
2. Tatyana Ali Is No Longer The Sweet And Adorable Ashley Banks
The adorable and sweet little Ashley Banks is all grown up and has moved on from her time in Bel-Air. After the massive success of Fresh Prince, Tatyana Ali used her fame to release an album like her co-star Will Smith, although she never established herself in the music world like him. Throughout the 2000s, Ali had many small roles as she had become known as the sweet girl next door. She is not just a talented though, she has brains too. Ali got her bachelor's in African American studies from Harvard University and later became an ambassador for eHarmony, where she met her husband. 
3. Tiffany Thiessen Has Grown Up A Lot Since Her Time As Kelly
Tiffany Thiessen might be recognized as one of the most popular teens of the '90s. She played Kelly on Saved By the Bell, and then immediately transitioned into Beverly Hills 90210. She was set to be one of the biggest celebrities of all time as her career was continuing to grow. There is no doubt that Tiffany Thiessen is a legendary teen icon, but in the past two decades, she has had few credited roles. She recently revived her career with a featured role on the show Alex and Katie. The show is currently in its third season, and we are sure there will be more. 
4. Lark Voorhies Went From Being A Teen Heart Throb To Staying Out Of The Spotlight
Lark Voorhies may share a last name with a movie serial killer, but that didn't stop her from skyrocketing to fame in the '90s. She is best known for her role as Lisa on Saved by the Bell. Throughout the '90s, she got roles in music videos, and she was Carlton's love interest in The Fresh Prince of Bel-Air. In recent years, Voorhies has shied away from the spotlight. She has focused more on her writing, but she was offended that she was excluded from the upcoming revival of Saved by the Bell. Today, she keeps her life reasonably private.
5. Danica McKellar Had Her First Kiss On Set And Now She Has A Family Of Her Own
While Danica McKellar's career began in the mid-80s, her fame skyrocketed when she landed a starring role in The Wonder Years. It was fortunate for McKellar that she always looked younger than her age because she was cast in teen roles well into her twenties. Since she started acting at such a young age, her first kiss was on set with Fred Savage. Now McKellar is all grown up, and she looks much different than she did in the '90s. She is on her second marriage and has one child. Although she has started a family, she has not slowed down in her career. McKellar has done a slew of Hallmark movies and appeared in different TV shows. She is also a huge advocate, promoting the importance of education for young girls.
6. Kate Winslet Could Have Let Leo On The Floating Piece Of Wood
"Near, Far, Wherever you are, I believe that the heart will go on." No one can compare to the starlet of the '90s, Kate Winslet. She stole the hearts of not only the audience, but also Leonardo DiCaprio, with her incredible performance in Titanic. These two rose to superstardom after this movie premiered. Winslet has done so many movies and television shows that the list would take up its own page. However, she is still as relevant today as she ever was. It is also a wonder how she has barely aged in the past thirty years. While she credits Titanic for her successful career, Winslet has said that she prefers more art-house style productions. 
7. Danielle Fishel Made Everyone Believe In High School Romances
When Danielle Fishel was just 12 years old, she stole the hearts of viewers as Topanga in Boy Meets World. While she had appeared in shows like Full House and Harry and the Hendersons before the show premiered, Topanga was the role that launched her career and made her a teen role model. Since her days as Topanga, Danielle Fishel has had a successful hosting career, and she transitioned into directing. In 2016, she resumed her role as Topanga for the spin-off show Girl Meets World, and she has directed many other Disney re-boots. In 2019, she welcomed her first child into the world. 
8. Pamela Anderson Made The Red One-Piece Part Of '90s Pop Culture
We can't talk about female '90s icons without mentioning Pamela Anderson. Where would we be without her signature slo-mo Baywatch run and the red one-piece? It was in this role that she gained her spot as a Hollywood legend alongside David Hasselhoff. Throughout the decade, she became a paparazzi favorite and someone who was always in the magazines. Although she is older than her Baywatch days, Anderson is still as gorgeous as ever. You can also thank her for making celebrity sex tapes popular after her honeymoon video was leaked. Today she isn't seen much, but when she does make an appearance, you know she is going to look amazing. 
9. Mandy Moore Went From Topping The Charts To Killing It In The Box Offices
There is no denying that Mandy Moore was a pop princess in the late '90s. She hit her stride right as the 2000s rolled around, and her first album "So Real" went platinum before she turned sixteen. By eighteen, she had already released three albums and played the iconic mean girl in The Princess Diaries. Who can forget her rendition of "Stupid Cupid?" Fortunately for Moore and her loyal fans, she is still a big name in Hollywood. She regained a younger fan base when she voiced Rapunzel in the hit Disney movie Tangled. Moore has also been in many other incredible films, including The Darkest Minds, 47 Meters Down, and Midway. We are sure she is not slowing down anytime soon. 
10. Tia And Tamera Mowry Used Their Twin Power To Launch Their Careers
"Sister, Sister, never knew how much I missed ya!" We hope the Sister, Sister theme song is stuck in your head for the day because that is all we can think about when we see Tia and Tamera Mowry.  These twins used their identical looks to launch their career and star in the hit sitcom. After Sister, Sister wrapped in 1999, the twins went in separate directions with their careers. Tia and Tamera came together again in 2005 to film the Disney movie Twitches and Twitches Too. Today the twins have separate ventures, but everyone will remember them as the lovable duo who taught us so many life lessons. 
11. Jessica Biel Was Only Beginning Her Career In The '90s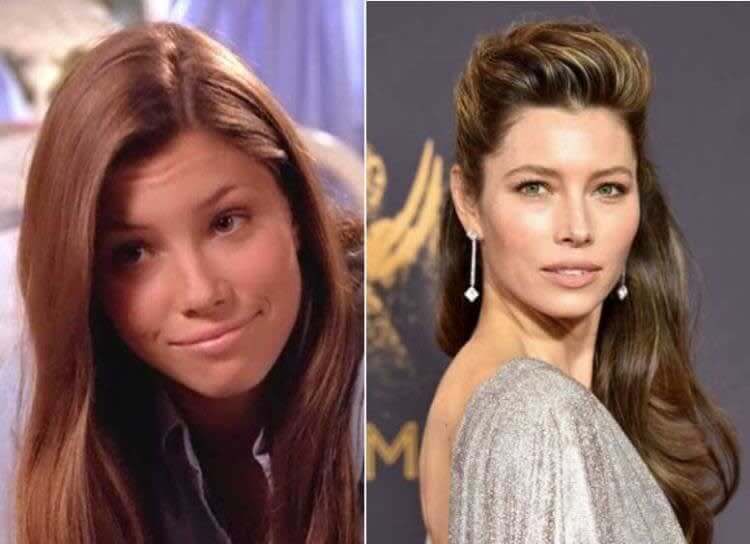 Although Jessica Biel is a star today, she got her start in the '90s. Her career began on stage as a trained vocalist. Biel later appeared in performances of Beauty and the Beast and The Sound of Music. ​Her talent was evident from the start, and she was quickly signed with a talent agency. Between The Texas Chainsaw Massacre, Total Recall, and The A-Team, Biel has been killing it since the early 2000s. Biel decided that she wanted to take on more complex roles in her career, so she started producing films in order to create those roles. Not only is she famous for her own talents, but Biel is also married to the '90s pop star, Justin Timberlake. 
12. Kirsten Dunst Was And Will Always Be An Icon, Legend, And Star
Kirsten Dunst is, without a doubt, one of the most recognizable figures in Hollywood. She has been on the scene since the early '90s when she co-starred with Tom Hanks in The Bonfire Vanities. Her breakthrough role came in 1994 in Interview with a Vampire, which starred Brad Pitt and Tom Cruise. At this point, her career was about to go to the next level. In 2000, Dunst starred in the cult classic Bring It On, and she became a household name. Between the Spiderman movies, Get Over It, and Mona Lisa Smile, Dunst has had a steady career for over 25 years. While she no longer looks like her teenage self, she has grown into a talented and fabulous woman. 
13. Julia Stiles Was A Fan Favorite For An Entire Decade
During the '90s, it seemed like there wasn't a movie that didn't feature Julia Stiles. From 10 Things I Hate About You to Down to You. She was the grungy teenage icon that fit into almost every category, so she was a well-rounded choice for any role. Since the '90s, Stiles has continued to stay active in Hollywood. Between her role in Bourne and Riviera, she is still as relevant as ever. Stiles is married and has one child. She is also a philanthropist and does lots of work with Habitat for Humanity. 
14. Karyn Parsons Doesn't Need Phillip Banks To Pay For Her Clothes Any More
Karyn Parsons played the fashionable and iconic Hilary Banks on The Fresh Prince of Bel-Air. While she was portrayed as "daddy's little girl" who didn't need to work for anything, she was actually making a career for herself. Everyone loved to hate her, but that is what made the character so perfect. Parsons had small roles on Melrose Place and Lush Life, however she stopped appearing on camera shortly after the turn of the century and instead she moved into production roles. She formed her own production company and then took some time off when she got married and had children. 
15. Kate Moss Hasn't Aged A Day Since Her Supermodel Days
Few people haven't seen Kate Moss strutting on the runway or posing on the glossy pages of popular magazines. She was one of the original supermodels of the '90s along with Naomi Campbell and Linda Evangelista. Moss was featured in campaigns for Levis and Calvin Klein, which boosted her career to the next level. Now she is well into her 40s, and she still maintains her model figure. She is an icon in the modeling world, and after all these years, she still is the face of many popular campaigns such as Ermanno Scervino's Spring 2020 line. She is a star, and people will always talk about her. 
16. Amy Jo Johnson Was Everyones Teenage Dream
Go go Power Rangers! Amy Jo Johnson played the pink Power Ranger in the original hit TV series, and she was everyone's first celebrity crush. She was a skilled gymnast which helped her with all the stunts required for the show. Although there have been revivals of Power Rangers, nothing compares to the original line-up. While Johnson is best known for her acting career, her true passion is music. She has released three studio albums with her band, and she often performed around the LA area. Besides her music career, Johnson also produced a feature film called The Space Between Us in 2017.