While some celebrities do prefer a more low-key and intimate kind of wedding, some celebrities go to an entirely different level to create the perfect wedding. During the 1970s and 1980s, some of the most popular and iconic celebs got married, and although some of them are no longer together, their incredible wedding attire, venues, and glamorous guests are worth remembering. In this article, we take a look at some of the most nostalgic celeb weddings from back then, including the likes of Faye Dunaway and Peter Wolf Arnold to the "Terminator" of wedding himself, Arnold Schwarzenegger, to Maria Shriver.
1. ​1971 - Julio Iglesias And Isabel Preysler
While most people know that Julio Iglesias is the father of known singer Enrique Iglesias, it might come as a surprise to some that this is Enrique's mother. Iglesias married Isabel Preysler in 1971 when Preysler was a TV host and journalist who came from a particularly wealthy Filipino family. They stayed married for eight years, until the couple decided to get divorced in 1971. Within those happy eight years though, they had three children together.
2. ​1978 - Aretha Franklin And Glynn Turman
From 1978 to 1984, Aretha Franklin was seemingly happily married to actor Glynn Turman. They had their wedding ceremony at Aretha's father's church, who apparently liked her choice. It's said that her parents were never big fans of her previous husband. After the couple got married, she became the stepmother to Glynn's children, who were probably so excited about the idea of having such a legend as a stepmom. But the marriage only lasted until 1984, when the couple decided to get divorced.
3. ​1981 - Princess Diana And Prince Charles
Few people haven't heard about Princess Diana and Prince Charle's wedding, which is probably one of the most famous marriages of the century. The couple got married in 1981, in a Royal and majestic ceremony that was televised all over the world. Fans were in awe over Princess Diana's stunning wedding dress and had high hopes for this fairytale-like Royal wedding. However, they had a rocky relationship and got divorced in 1996. One year later, Diana sadly died in a car accident.
4. ​1985 - Sylvester Stallone And Brigitte Nielsen
When Sylvester Stallone and Brigitte Nielsen got married in 1985, no one could deny that the couple looked stunning together. Nielsen was Stallone's second wife at the time, and unfortunately, wasn't his last. The couple lasted only two years together, getting divorced in 1987. They didn't have any children together, though Stallone already had two children from his previous marriage. The actor went on to marry his third and current wife, Jennifer Flavin. That couple has three daughters together.
5. ​1981 - Ringo Starr And Barbara Bach
Richard Starkey, mostly known as Ringo Star, married Barbara Bach in 1981. They met a year before while working together on the set of The Caveman. When they met, Ringo Star already had three children from his marriage to Maureen Cox, but it was like love at first sight, and a marriage that was destined to last since the couple is still married today. Together, they have seven grandchildren and live between Los Angeles, England, and Monte Carlo.
6. ​1964 - Elizabeth Taylor And Richard Burton
Elizabeth Taylor and Richard Burton have had one of those rocky and crazy Hollywood relationships. For instance, from the seven times that Taylor was married, two of those times were to Richard Burton. This picture was taken in their first wedding which happened in 1964. Soon after they decided to get divorced, but ended up getting married one more time in 1975. Though the couple got divorced once again, according to Taylor, Burton was still the love of her life.
7. ​1989 - Emma Thompson And Kenneth Branagh
This wedding might come as a surprise to some since many people had no idea that these two British icons were actually married at some point. They got married in 1989, after meeting on the set of a film they were both working on two years prior. The press was completely obsessed with the couple's relationship and would not give them a break. But in 1995, Branagh fell in love with actress Helena Carter and ended up divorcing Thompson that same year. 
8. ​1974 - Faye Dunaway And Peter Wolf
Faye Dunaway and Peter Wolf got married in 1974 just when both of their careers were ascending. They had met two years before when journalist Bryn Nryndenthal introduced them before a concert. But the couple only lasted five years, stating that their crazy schedule did not allow them to properly keep their relationship afloat. Although they seemed to be completely in love with each other, their paths kept moving towards two completely different directions, making it impossible for the relationship to work out.
9. ​1971 - Mick Jagger And Bianca Perez-Mora Macias
Mick Jagger and Bianca Perez-Mora Macias (also known as Bianca Jagger) got married in 1971, but the marriage didn't last that long either. The couple stayed together until 1978 when Bianca reportedly got tired of Mick's constant infidelity. Though it wasn't a surprise to anyone, including her, that he was cheating, it seemed like 1978 was simply the year that she had had enough. Since then, Jagger has never married anyone again, and Bianca went on to focus on her social and human rights advocacy work.
10. ​1985 - Madonna And Sean Penn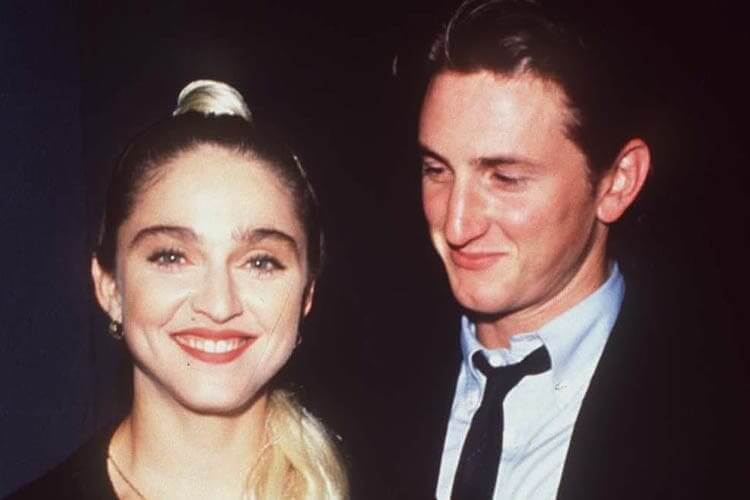 Madonna married Sean Penn in 1985, but apparently, the couple had a rocky marriage from the start. They stayed together until 1989, though Madonna had filed for divorce two years before, then decided to retract her papers. The ex-Hollywood power couple has since remarried other people a couple of times, but seem to be on good terms, and might even be friends. They have both shared publicly on several occasions that they both love each other very much, despite it all.
11. ​1984 - Renata Blauel And Elton John
Elton John married German recording engineer Renata Blauel in 1984, though everyone was pretty sure that the relationship wasn't going to last very long. By then, the legendary singer had already come out as bisexual to the public, and people were skeptical about his new relationship. They ended up getting divorced in 1988, just four years after their wedding. That same year, Elton decided to fully come out to the press, sharing that he was actually gay.
12. 1986 - Arnold Schwarzenegger And Maria Shriver
Arnold Schwarzenegger and journalist Maria Shriver got married in 1986. Fun fact, Shriver is actually the niece of the one and only President John F. Kennedy. Although the couple is now divorced, they had a long marriage and four children together. Sadly, they were involved in a cheating scandal, when it was found that Schwarzenegger had had an affair with the couple's housekeeper, Mildren Baena, with whom he had a son who is the spitting image of his famous dad.