Tattoo technology and creativity have reached unimaginable heights; images that we previously only saw in photographs or real life can now be replicated on people's skin by the most talented artists. And while ink enthusiasts love it, for those of us not used to it, some of these tattoos are so lifelike that it's nearly unsettling. But we still can't peel our eyes off of them. From hyperrealistic people to boggling recreations of nature, get ready to be impressed (and possibly creeped out).
A Mechanical Tattoo Masterpiece
This gorgeous masterpiece appears to be the epitome of modern body art. It is impossible not to be surprised by this trendy design on someone's back. This tattoo has magnificent detail and looks like shredded skin with a robotic body inside. It's remarkable and almost unbelievable in composition, skill, and overall style. It is so good that we can imagine people's astonishment looking at this person in real life.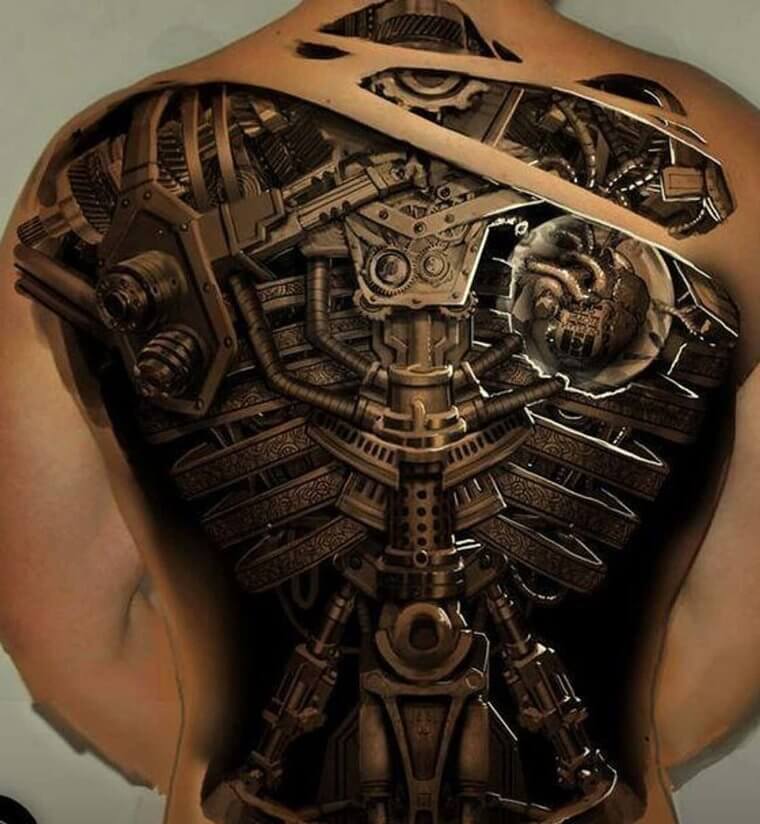 The ink jobs are becoming more realistic than ever before. So is it a machine or a man? We'll let you decide.
A Well Sculpted Thigh
Here is something that looks too good to be true. We are well aware that sculpture is a visual art form that acts in three dimensions, but this one takes the cake in terms of visual impact. It is nothing comparable to extraordinary sculptures such as Venus of Willendorf, The Terracotta Army, or Michelangelo. However, it is still fascinating when you remember that this is a tattoo. It is so detailed that it looks like carved wood, not someone's leg.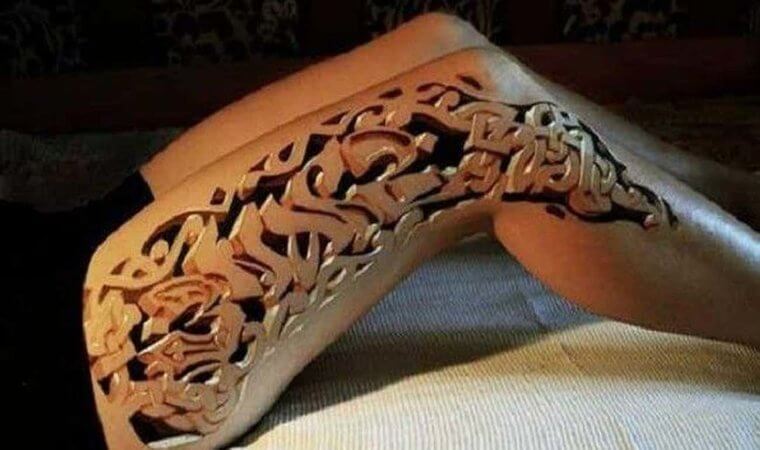 Imagine the reaction of the person whose leg this belongs to. Legend has it that the person who got this tattoo always wears shorts just to show it to the world.
Leap of Faith Or Not?
There's no doubt in our minds that one incredible tattoo artist did this. From this work, we can learn a lot about the genre of realism in the world of tattoos, or rather, even hyperrealism. If we didn't know any better, we might confuse this tattoo of a man about to jump off a building for a photograph. Maybe the tattoo symbolizes how we have to take a leap of faith when everything is going against us.
But seriously - the detail on this masterpiece is out of this world. We can only imagine how many long hours were spent in the studio.
Tying Shoe Laces Is Overrated
Take a look below to see a pair of shoelaces that we'll never have to worry about tying again. Why? Because the shoelaces are tattooed directly onto the skin itself! The woman who had this tattoo done probably had a problem with shoelaces and didn't want to deal with the daily hassle of tying and double-knotting anymore. It is an effective strategy for putting an end to the battle of tying shoelaces.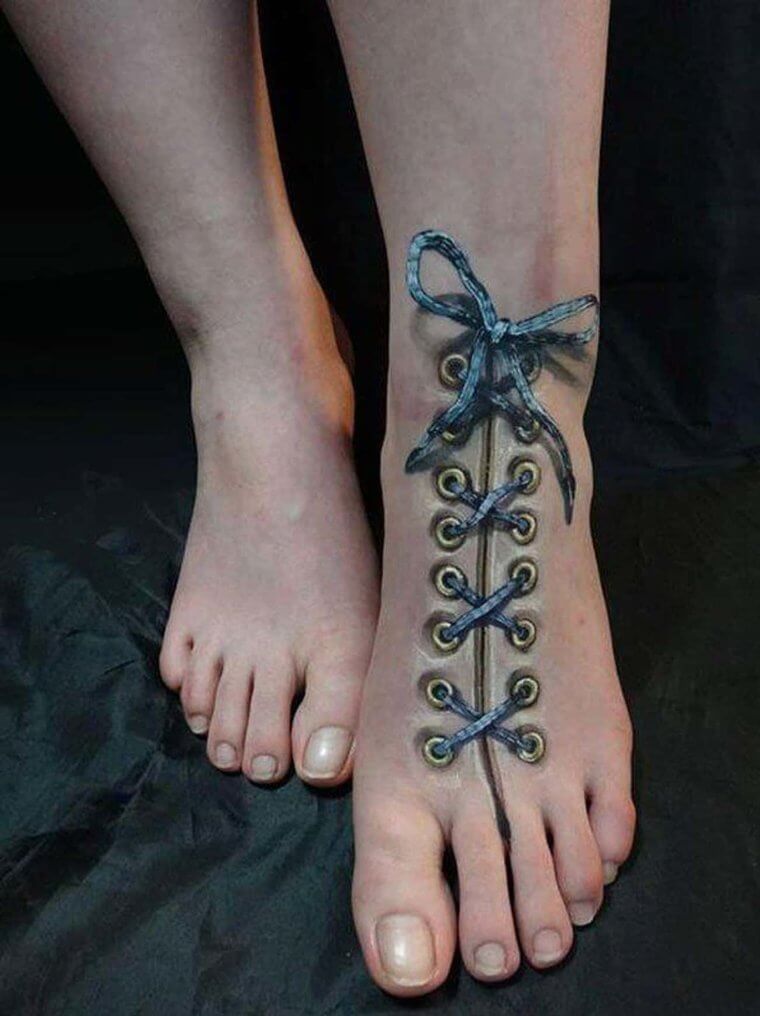 This could have easily become a horrible experience for the tattooed woman, but perfect execution ensured she'll never regret getting the tattoo.
More Three-Dimensional Than the Real Thing
We have all seen ordinary tattoos that are beautifully composed, but 3D tattoos can have a mind-boggling effect on those who are witnessing them. For example, this tattoo is very intricate and so flawlessly executed that some people may doubt whether it is genuine. But, on the other hand, part of the fun of getting a great tattoo is making people question its authenticity and look at it in disbelief.
Honestly, we have nothing more to say than just praise the tattoo artist behind this masterpiece. Imagine how many hours it took to create it.
Say What's In Your Heart
Tattooing is a method through which people can influence and shape the way others see them. Permanent art on your body can be a way to show your values in life. And that seems to be what this person intended to do when they chose to get this beautiful tattoo. And while we've seen our fair share of both bad and excellent tattoos throughout the years, this one is simply remarkable because of the perfect execution.
This tattoo is giving solid life lessons. When everyone starts to respect freedom, love, family, friendship, integrity, and tolerance, the world will be a better place to live in.
Is It Tat-Man?
This appears to be completely surreal. Someone chose to get a highly realistic Batman suit under the skin tattooed on their chest. Who knows, some people may have advised this individual that it was a bad idea in the first place, but it turned out to be much better than they had anticipated. In all seriousness, he might be the hero that the world has been waiting for and desperately needs.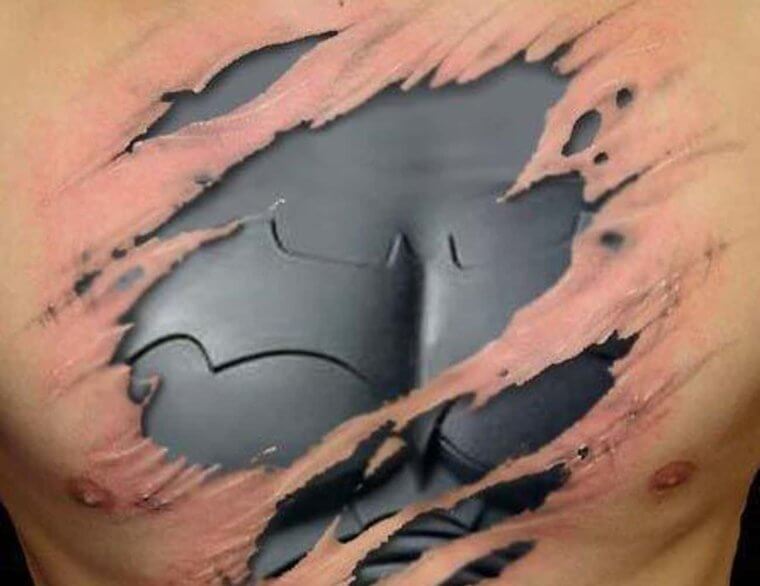 Maybe he should get this tattoo too. Or a Superman version. Really, any design that has us looking like a superhero.
Crystal Blue Eyes
On the fear meter, this one gets a perfect 10. However, we have to admire this person for getting a 3D image of a genuinely evil-looking and robotic eye tattooed on their chest. It takes crazy courage to do something like that. And as if the person's scary appearance and the crimson color of the eye weren't enough, they also opted to get it done in enormous size. This tattoo is impossible to miss.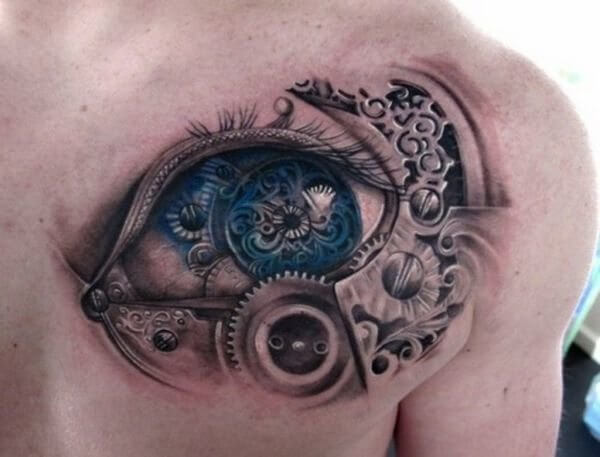 Thanks to that creepy eye staring into our very soul, it would also be impossible to come anywhere near that person.
The Most Chilling Tattoo Yet
In the tattoo below, we can see a young woman who appears to have been affected by the cold weather. Thanks to this ultra-realistic tattoo, we can practically feel the frost on her face. The texture really stands out; if you look closely, you can see the tiny dots of ice and snow on the woman's face. Snowflake tattoos often represent individuality and the ability to stand out from the crowd - and this one definitely stands out.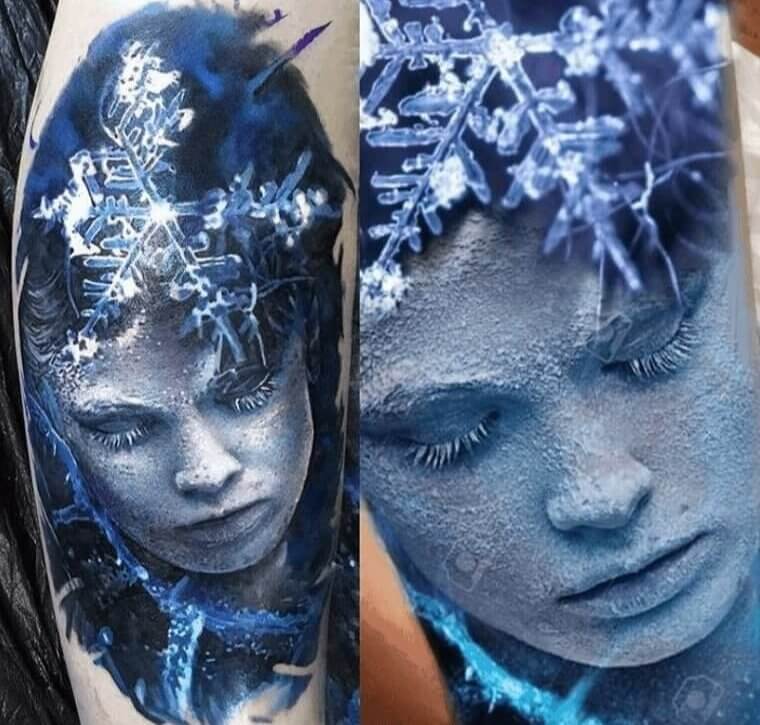 Every snowflake is supposed to be unique, and in the case of this tattoo, it stands out above other life-like tattoos in terms of quality and detail.
Giving Us the Eye
The eye tattoo has a great lot of significance, both in terms of symbolism and the individual who is donning it. It represents insight and the capacity to perceive beyond what is immediately visible to the naked eye. There is a clear association between the "third eye" and the reality that it perceives beyond the physical world. Others who have this tattoo have stated that it denotes clarity of thought, vision, protection, and attention.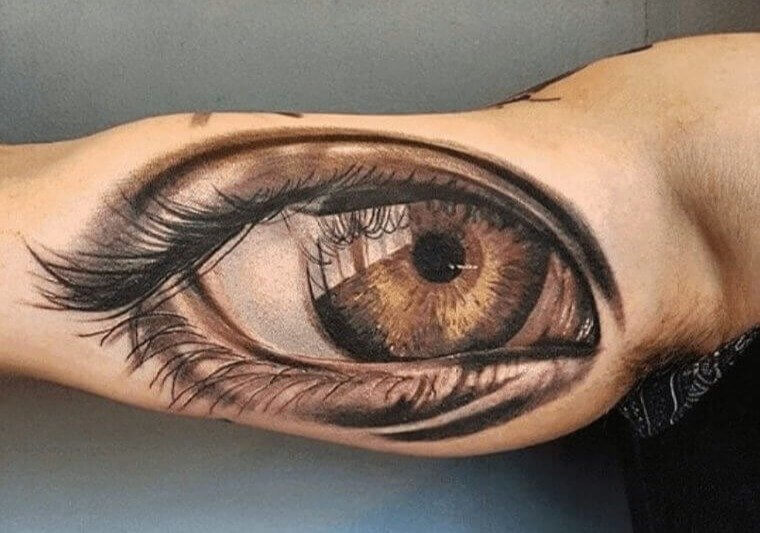 This eye tattoo looks so lifelike that it nearly feels like it's looking straight at us. And we're so intrigued that we want to stare right back.
Deep Blue Sea
This tattoo artist's natural talents are evident in his ability to depict a realistic aquatic environment with such beautiful colors. The utilization of space and vivid blue color/grayscale is particularly impressive and offers the appropriate undersea imitation that makes this masterpiece stand out powerfully. It just goes to show that the sky is the limit when it comes to tattoos. In fact, incorporating different complex concepts is possible too.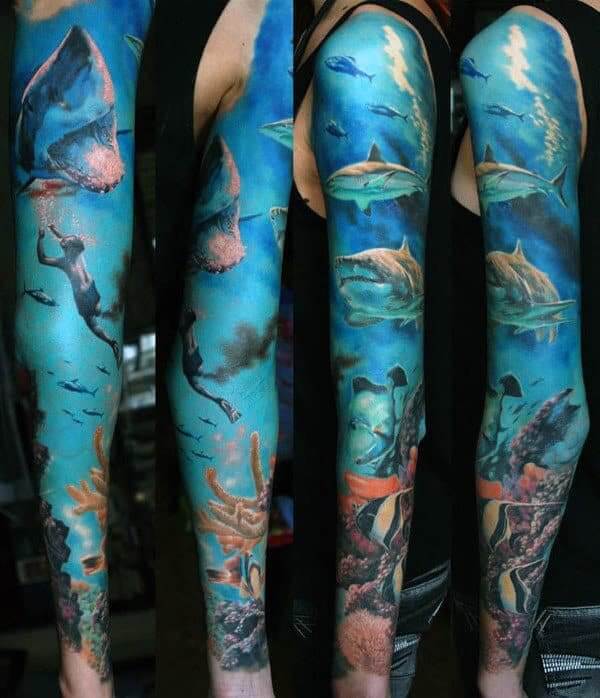 It is unbelievable how committed these tattoo artists are, and their attention to detail is at different depths (yeah, we had to use a pun here).
London Like Never Before
One of the characteristics of a good realism tattoo is meticulous attention to detail and patience with the process. Not everyone is gifted with the ability to be patient, while others embrace patience to create masterpieces. Let's take this incredible tattoo as an example. The level of detail in this tattoo is verging on unbelievable. In its entirety, the piece is stunning! We are in awe of the tattoo artist who created this hyper-realistic tattoo.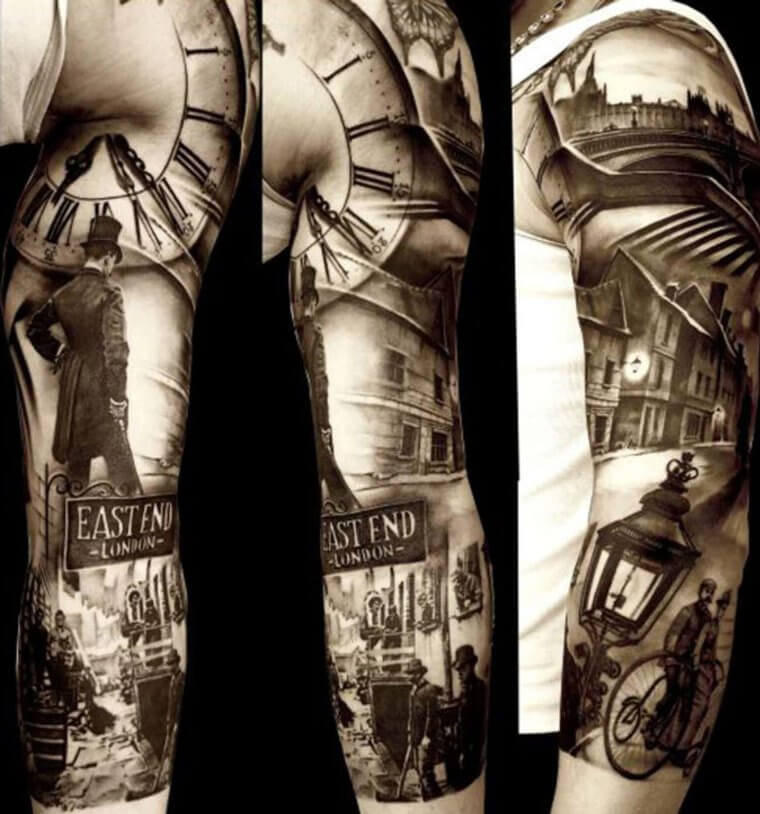 Everything in this tattoo, from the clock and the man with a top hat to the city streets and cafes, looks like it was taken out of a photo album.
It's Uncle Fester
When we look at this tattoo, we can't help but sing The Addams Family theme song in our heads. We have to say that the artist brilliantly captures Uncle Fester's weird personality in this tattoo. In case you don't know, The Addams Family was a television program that aired in the 1960s and has survived to the present day. It follows a unique and diverse family as they embark on a series of bizarre experiences.
This show is well-known for providing us with ideas for what to wear to a costume party. And now, we can add "tattoos" to the many pieces of art it's inspired.
Evil Eye
While we admire and respect the tattoo artist for creating such a realistic eye tattoo, some of us are feeling a bit scared. Okay, we are feeling very scared. Just imagine waking up next to this huge, super lifelike eye and screaming at the top of your lungs with fear. We bet that this person's partner had many sleepless nights after the tattoo was first finished and then got used to it.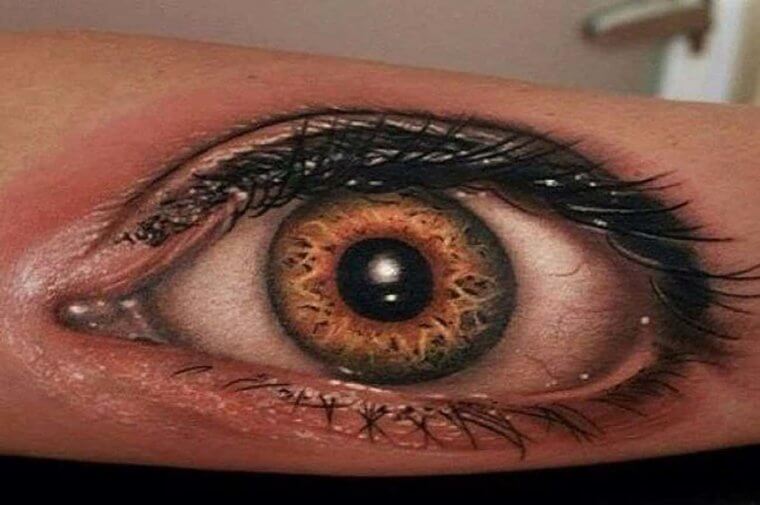 Jokes aside, we think this hyperrealistic tattoo deserves to be on this list. If it scares anyone, it means the tattoo artist did a great job.
A Skull Straight Out of the Grave
It is the ability to take a still image and give it the appearance of being about to spring to life that distinguishes these tattoo artists from the others. The skull tattoo perfectly portrays the concept of death in its most basic form. But it means a great deal more than death in certain cultures. In some cultures, the use of a skull tattoo symbolizes the celebration of life.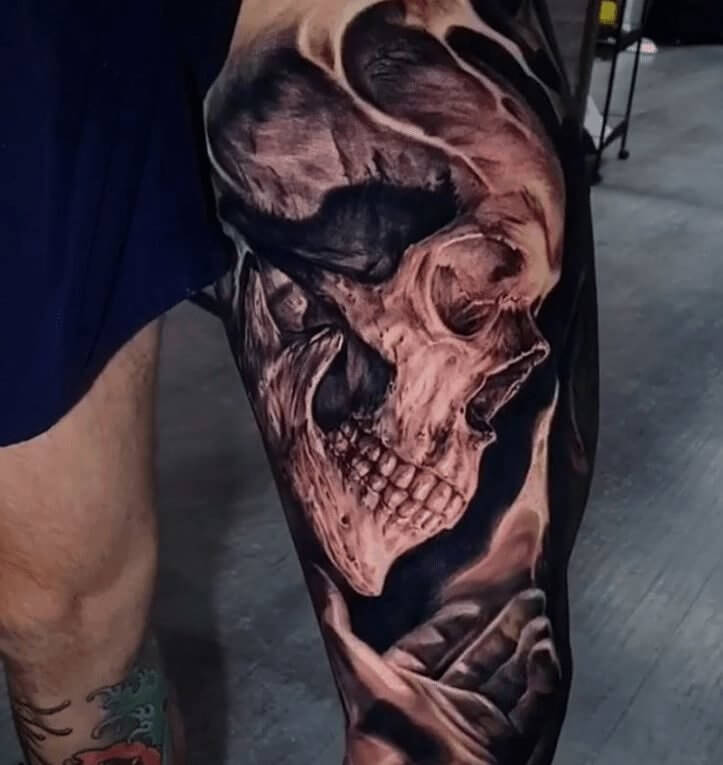 In ancient societies, the skull was supposed to represent profound change, and death is the most significant change that somebody can go through.
Heart of a Lion
From the shields of medieval soldiers to the flags of armies, lions have long been connected to heroism. So not surprisingly, one of the most prevalent meanings of a lion tattoo is to represent the strength and courage of the person. These tattoos are often chosen by a bold individual or a person who has overcome adversity through courage. Many people believe that having a lion tattoo represents their connection to, or desire for, nobility or leadership.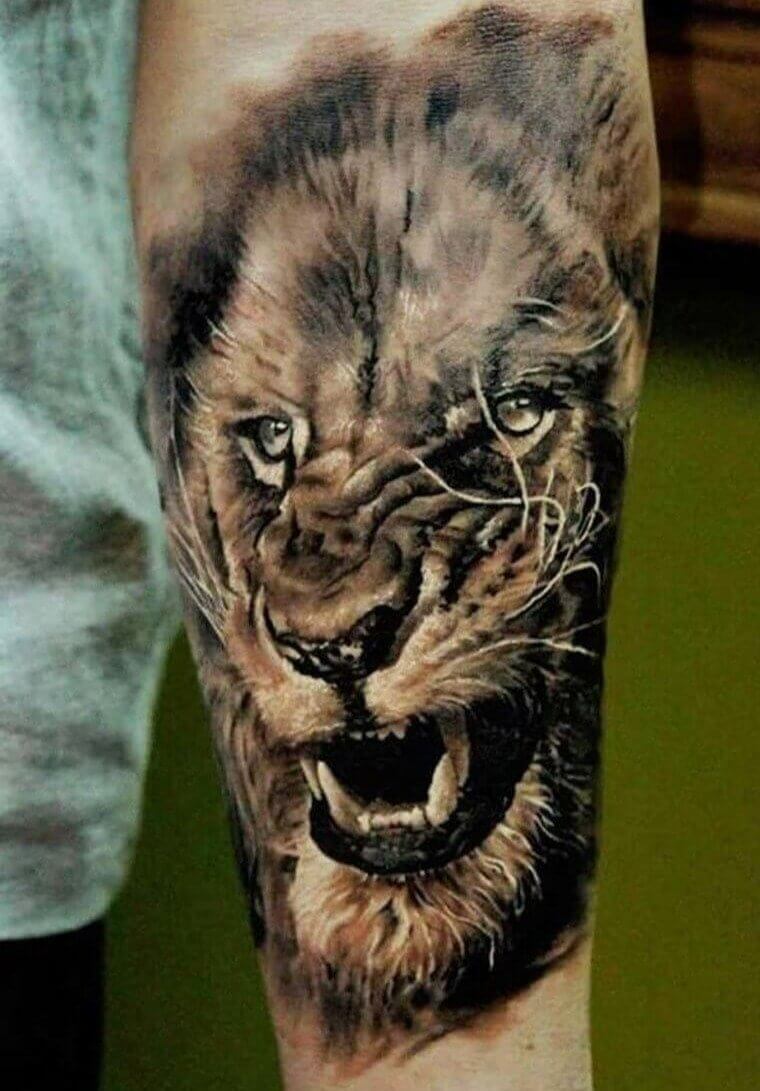 There are a variety of possible meanings for lion tattoos, and anybody considering getting one should make sure that their ink accurately depicts what it means to them.
Proceed With Caution if Scared of Clowns
Hardcore horror fans will enjoy this one! A realism tattoo depicting the likeness of a favorite horror movie villain would be ideal for anybody who enjoys terror movies. This piece of realism shows the qualities of Pennywise from the iconic horror film It. Tattooing realism and accurately replicating the gruesome traits of well-known horror movie villains are complex tasks in and of themselves, and this artist managed to do both!
Realistic tattoos of this style can be done in color or gray ink. In order to accurately depict these terrifying figures' facial characteristics and contours, an incredibly detailed technique is required.
Run For Your Lives
Spider tattoos continue to be a popular tattoo option, even though they are typically depicted negatively. While spider tattoos are considered an old-school tattoo design, they have the potential to express both negative and positive aspects of one's personality. The most frequent spider picked for a tattoo is the black widow. A vivid red hourglass emblem on its back distinguishes the black widow spider. The female black widow is also infamous for devouring her partner after she no longer requires him for her survival.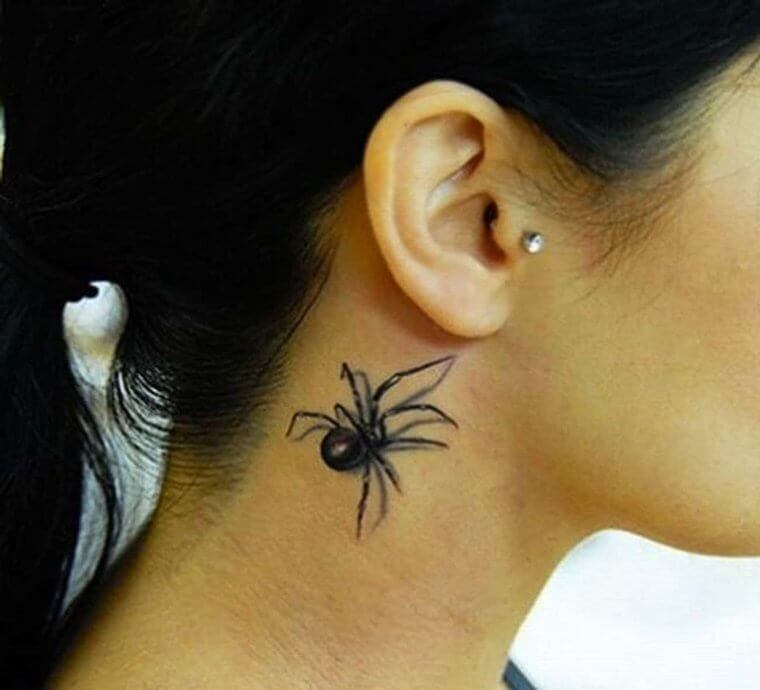 The black widow represents death, wickedness, power, and strength. Alternatively, the black widow tattoo may be chosen to signify one's survival after having experienced a near-death experience.
This Just Looks Too Real
Realistic tattoos of human figures are among the most difficult to do. Animals are one thing, but when it comes to tattoos of people, things get a little more tricky. However, when these tattoos are produced well, they're nothing short of amazing. The finest way to immortalize a celebrity or loved one's likeness is with a portrait tattoo. Chris Cornell's vocals are beautifully depicted in this tattoo, and we wouldn't mind having one of our own.
There are numerous realistic tattoo artists out there, so it's recommended to go through several examples of their work to find inspiration before choosing one.
We're Hooked
More meanings are associated with fish hook tattoos than most people realize, and some of these designs also happen to be some of the coolest-looking tattoos on the market. When it comes to getting a fish hook tattoo, the most common motivation is to express a passion for being out on the water fishing. In these instances, individuals frequently go for extremely realistic-looking fish hook designs to make it evident that they are enthusiastic about the activity.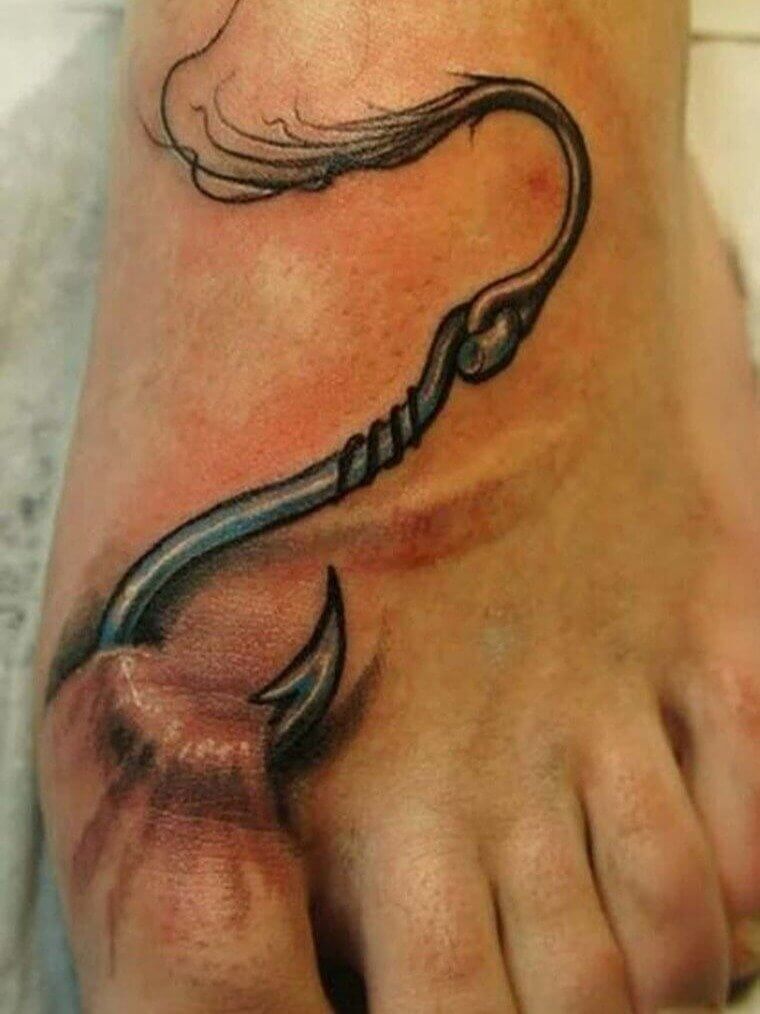 The fish hook tattoo may also be a representation of determination. Some men acquire the tattoo to indicate to women that they are a "good catch."
A Tattoo Fitting for the Gods
The chest area has been popular for realism tattoos because it provides a wide, continuous surface of the skin, allowing larger pieces to be tattooed there. It is appropriate to display large passages of scripture and literature on the chest, which other visuals can also supplement. The artworks in the Classical style provide a feeling of eye-catching breadth and size, as well as a very complex shading platform created with black and grayscale ink.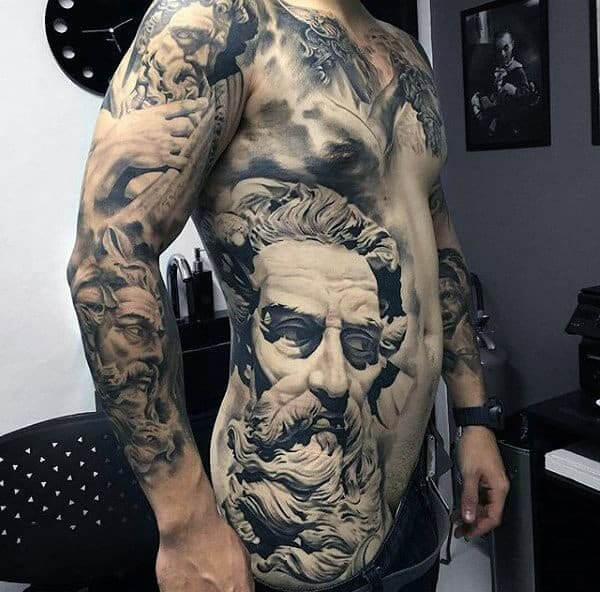 Chico Morbene is the tattoo artist behind this masterpiece. He used to work in the IT industry before pursuing a full-fledged career as a tattoo artist.
Full of Wisdom
Carlos Torres is a tattoo artist that specializes in black and gray tattoos. He excels in Black and Gray realism and enjoys working on many types of tattoos, including color, portraiture, and other subjects. He started following his passion around 15 years ago and has developed a strong reputation thanks to his amazing his work. It's said that he often refuses to go out with friends because he wants to go home and paint instead.
We would love to meet the person who inspired this tattoo in real life. The older man looks like he's filled with wisdom.
An Owl as Real as Any
Owl tattoos are popular as they embody vision and optimism and represent a light that shines through even the darkest of times. Owl tattoos are popular because owls are nocturnal birds that hunt at night. They also have large eyes that enable them to see well in low light conditions. Their eyes are also very sensitive to movement, allowing them to spot prey from far away. In a way, having an owl tattoo symbolizes a personality that is resilient and thrives in all conditions.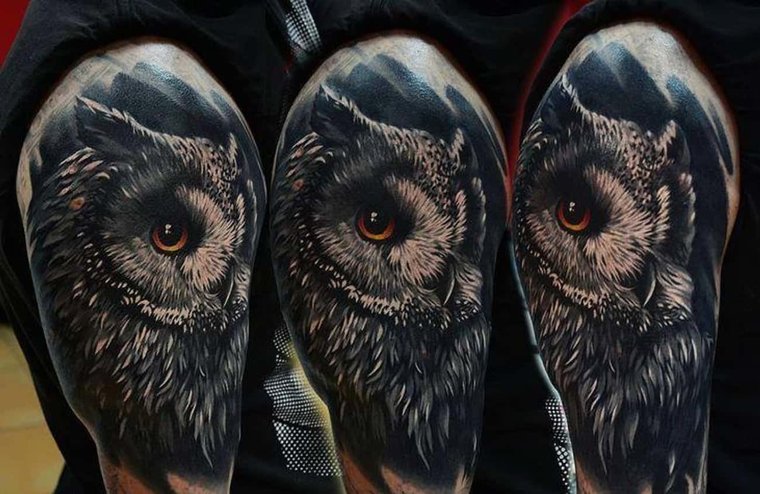 What we love about this owl tattoo is how effortless it looks, as if the tattoo artist didn't try to do anything excessive and went with the flow in creating one beautiful masterpiece.
A Rose Like No Other
The rose is one of the most challenging flowers to design and draw for tattoo artists. Throughout the ages, people have used the rose tattoo as a symbol of undying love and devotion. The rose has come to represent the persistence of compassion and love in the modern-day. But then again, one can say that rose represents found or lost love. That's why rose tattoos have evolved over the years.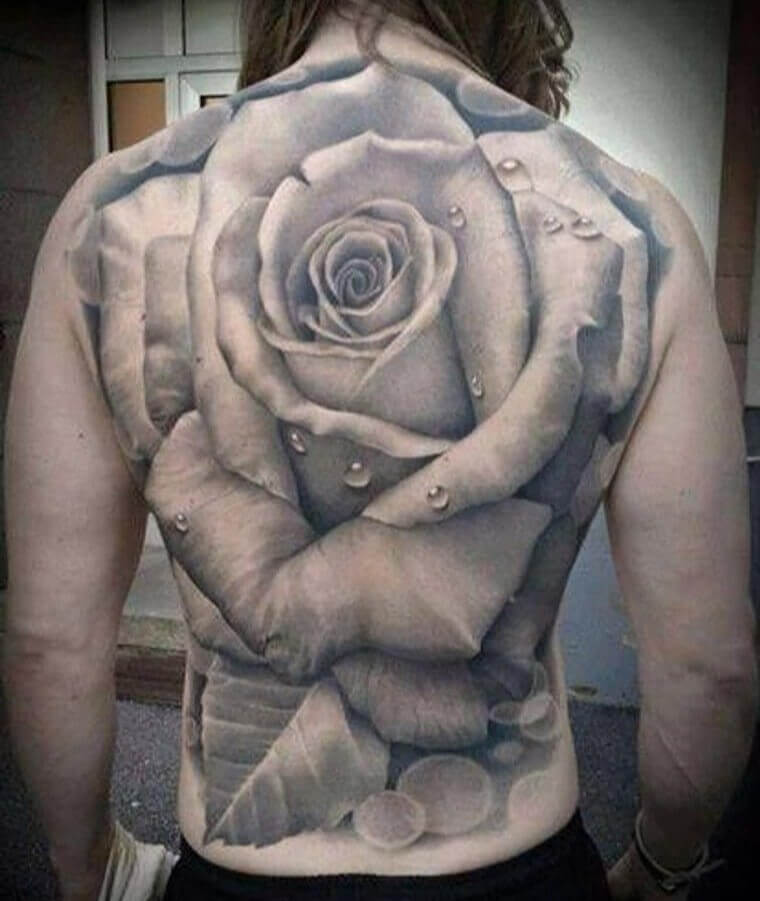 Any passionate feeling that someone could have in their life is also strongly related to this flower's association with hope. As a result of its intriguing appearance, the rose lends itself to a sense of mystery.
Don't Mess With This Guy
A scorpion tattoo can have many distinct possible meanings. Despite the fact that scorpions have a small size, they are highly formidable and fearless creatures who know how to give a good fight. That is why some women get a tattoo to represent their feminine strength. In addition, the belief that scorpion tattoos may fend off bad spirits is common in some cultures when they are done in the tribal style.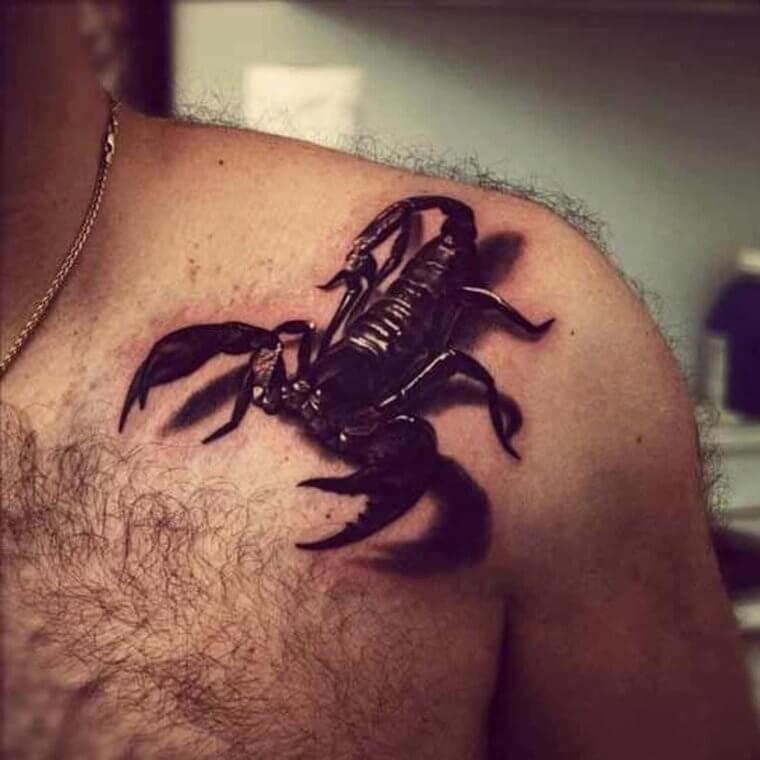 Due to their ferocity and aggressiveness, Scorpion tattoos are often seen as a kind of protection for the wearer. Moreover, enforcers or contract killers in the Cuban and Mexican gangs commonly wear scorpion tattoos.
Straight From the Depths of the Ocean
There is nothing quite like an octopus tattoo to bring a look together. The crusaders of the sea, the first ships, and sailors were seen as courageous warriors who engaged in dangerous battles against the evil villains of the deep sea, including octopuses. An octopus tattoo can indicate mystical wisdom, on-the-spot thinking, and versatility. Moreover, this amazing tattoo design is a fantastic representation of overcoming anxieties and fears in a person.
One of the best octopus tattoo meanings is the capacity to tap into the danger and strength of this enormous monster of the sea.
Out of This World
Jun Cha, a tattoo artist based in Los Angeles, created this stunning piece. For him, the tattoo ink that decorates his clients' flesh is just the beginning. It's a means of expressing themselves as well as providing insight into their lives. As a result, when people come to him for a tattoo, the Korean tattoo artist always looks more than just something visually appealing or just weird. A large number of clients have been drawn to him because of his distinct approach and expertise.
We can tell that he has been tattooing and creating art since he was a child and that he is making the most use of his natural abilities.
The Hellenic Warrior
Hellenic is a term that refers to the imitation of the Greeks. As their civilization expanded, so did the distinct image of Greek troops, which became increasingly common. The classic Greek soldier, known as a hoplite, was distinguished by the distinctive helmet he wore as well as the long spear and round shield he carried. They were well-organized and ferociously devoted, characteristics that may be seen reflected in these intriguing tattoos of theirs.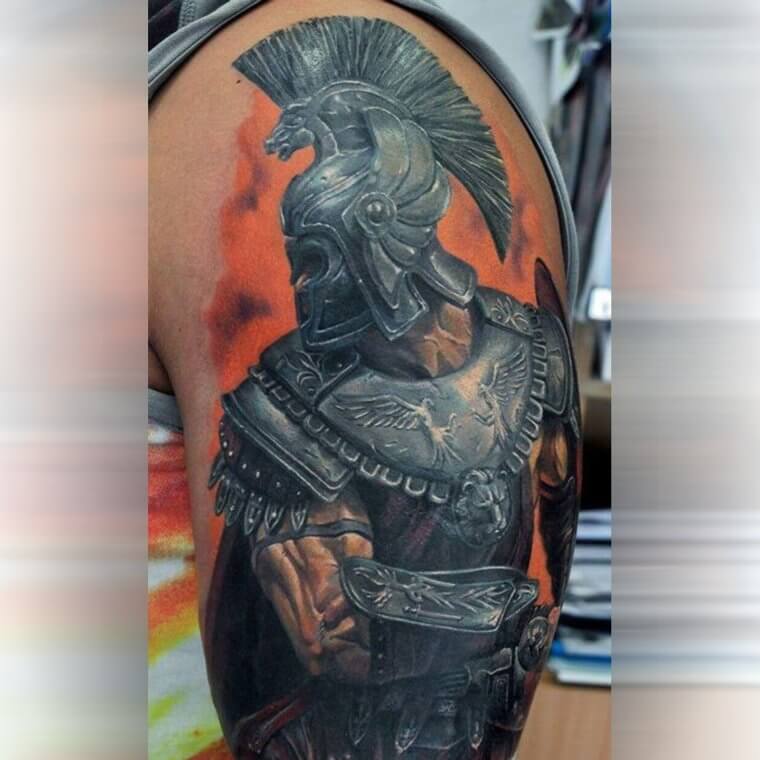 In addition to their distinctive clothing and equipment, they offer wonderful and unique ideas for tattoos that pay homage to the wearer's fighting spirit.
The King of the Jungle
Tattoos featuring animals can carry a great deal of significance, and a lion tattoo is undoubtedly no exception. Many people associate it with qualities like power, courage, and dignity, among other things. In pop culture, we can see a lot of these classic designs, with this option being a popular choice among superstars, most notably with Ed Sheeran and Justin Bieber. In August 2017, Demi Lovato had a lion's face tattooed on the back of her left hand.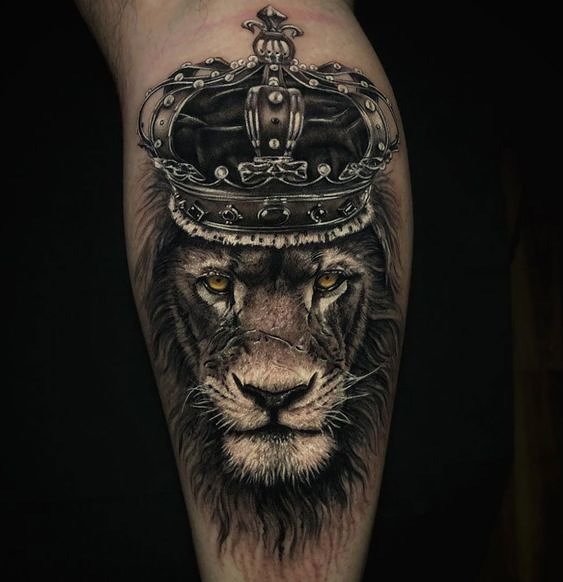 Demi has stated that if she could be any animal, she would choose a lion. And to keep an animal as a pet, she would choose between a lion or a unicorn.
A Ladybug On A Skull Because Why Not
A skull is often seen as a symbol of death, danger, and destruction, but it can be quite diverse in appearance when combined with other design elements. A skull tattoo is frequently used to depict dualism or to indicate the layers of meaning that lie behind the surface meaning. Furthermore, the skull is one of those classic motifs that will never go out of style, but it is as likely to signify estrangement in the modern world for every individual who has passed away as it represents.
In this tattoo, the skull is combined with a ladybug (which means luck, love, and friendship). One could say that this person lives a thrilling life and has had close encounters with death in the past.
A Slithering Masterpiece
There is something scary yet fascinating about snake tattoos. After all, snake tattoos are among the most powerful forms of imagery in the tattoo industry. They can be expressed in a variety of ways on the wearer's skin, depending on their size and placement. For example, a serpent may be used as a subtle symbol in a number of traditional tattoos, or it can be used to create intricate designs using color, scales, and fangs in great detail.
A snake tattoo will always elicit a response from people who see it, ranging from the curious and amazed to those who believe the person is insane for getting such a scary piece of ink.
A Colorful Viking
Are there any fans of Vikings here? It goes without saying that Vikings and Norse mythology, in general, provide an almost limitless amount of fantastic tattoo design inspiration. With their larger-than-life Gods and ferocious warriors, gigantic longships constructed for pillage and commerce, complicated symbolism, superstitions, and rune writing, they provide a colorful canvas for body art enthusiasts to express themselves in color, linework, or black and gray. In short, there's plenty to work with.
Like many other ancient peoples, Vikings covered themselves with tattoos as a symbol of their dedication to the gods, their families, and the Viking way of life.
Bee There On Time
The significance of a pocket watch tattoo varies depending on the variant. Still, in general, it denotes the passage of time or a specific event that occurred at a given moment that had a significant influence on the wearer in some manner. The apparent message communicated by this tattoo is that of time; nevertheless, a pocket watch may also signify the birth of a child, the death of a parent, a rejection of the normal understanding of time, or a warped perception of time, among other things.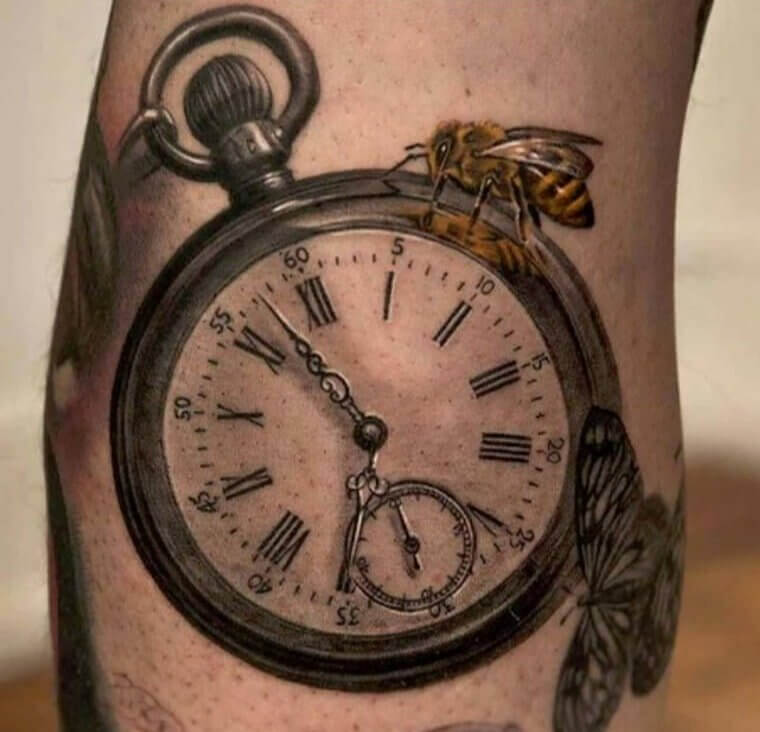 The use of pocket watch tattoo and butterfly implies that this person wanted to represent their love. A butterfly tattoo represents grace, joy, and summer in Chinese culture.
The Most Detailed of Pieces
Here is a tattoo that is a must for anyone seeking peace and harmony in their life. Mandala is a Sanskrit word that signifies a circle. They represent the concepts of harmony, eternity, oneness, and completeness. The mandala is a significant motif in both Hindu and Buddhist faiths, and it is widely used to represent the cosmos in both religions. Mandalas are frequently utilized to instill a sense of peace, quiet, and tranquility in people's lives.
Moreover, Mandala tattoos are associated with yoga instruction, meditation practice, and a variety of stress-relieving techniques, and they provide a diverse range of varied meanings for tattoo designs.
Arm Hole
Zebra stripes on the skin create an optical illusion for our eyes in this 3D tattoo, which is a pretty fascinating visual deception. It has the appearance of a spiraling column surrounded by empty space. It's really just an arm. The precise positioning of the stripes deceives the viewer's eyes into believing that the tattoo artist has disguised an actual hole in the arm with a tattoo rather than the other way around.
Maybe this one is actually the new black hole that was discovered in 2021. One can imagine how many galaxies are hidden there.