This article was originally published on
 tv-bee and has been republished here with permission.
Famous people have some unique qualities that make them seem very different from us mere mortals. But a walk down memory lane uncovers some incredible photos that prove that once upon a time, even the hottest celebrities looked just like regular humans, with bad hair, braces and all. Check out these pictures of your favorite celebs before they were famous, and see how many of them you can actually recognize.
1. Nicole Kidman
Kidman always knew she wanted to be an actress, and started taking dance and drama lessons at a very young age. In 1983, 16-year-old Kidman made her film debut in an Australian adventure kids show, BMX Bandits.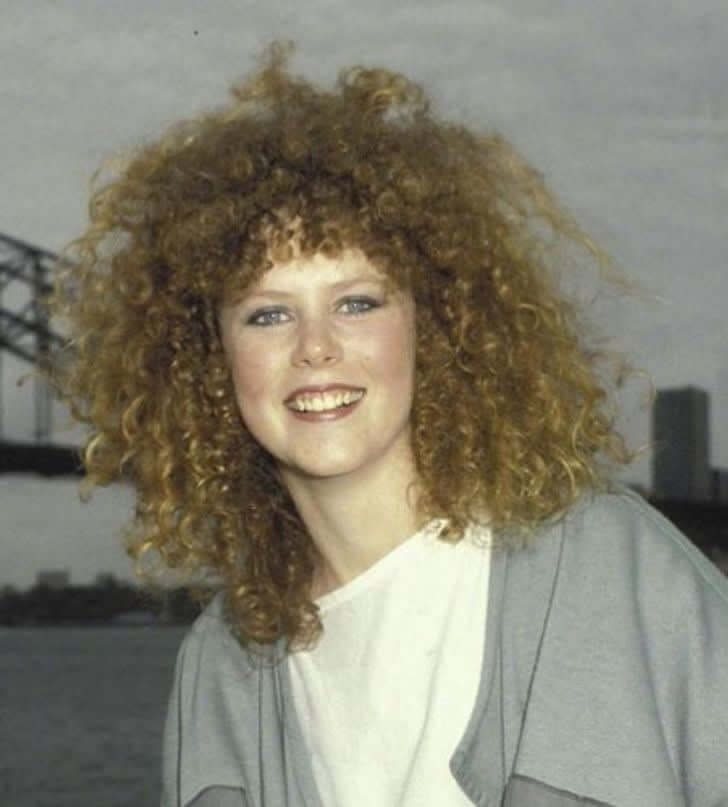 This is around when this picture of a smiley, curly Kidman was taken. 
2. Johnny Depp
Depp's first film role was in the classis horror film A Nightmare on Elm Street (1984), and this pictrue was taken around that time.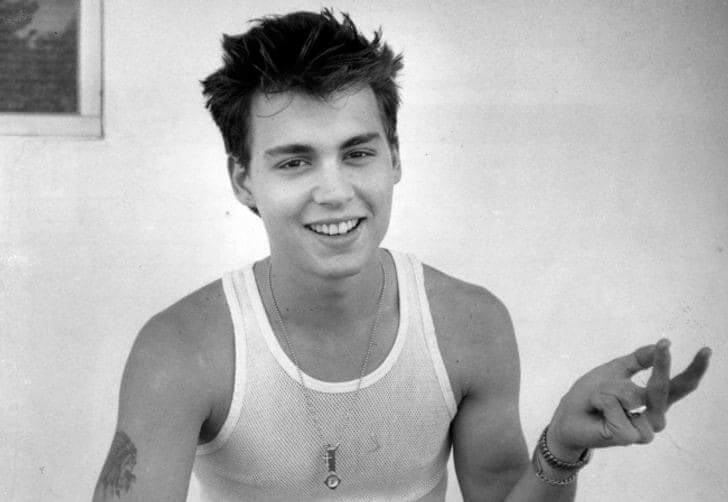 Seen in the picture is Depp's first tattoo, which he got when he was 17: a 'Cherokee Tribe' tattoo he got to honor his Native American heritage, as his great-grandmother was a Cherokee. 
3. Hayden Panettiere
Panettiere was a child actress and first appeared in a commercial at the age of 11 months. When she was just 10 she was nominated for the first time for the Young Artist Award, which she later won twice.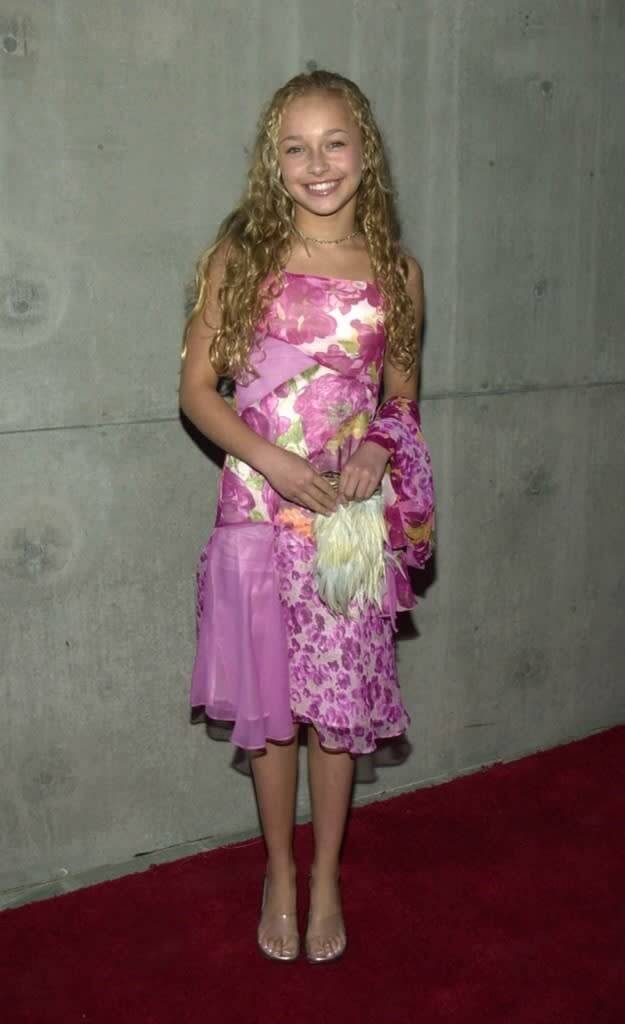 This picture shows a 13-year-old Panettiere, already a seasoned actress. 
4. Leonardo DiCaprio
DiCaprio is another actor who started his career as a young kid performing on TV.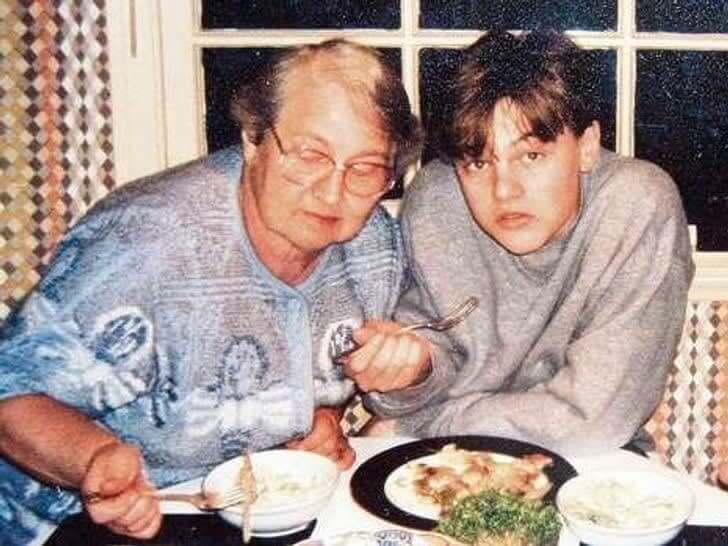 In the picture, a young DiCaprio visits his Russian grandmother, Yelena Smirnova. The actor's mother is of Russian descent, and he's previously stated that he see himself as "half-Russian" as two of his late grandparents were Russian. 
5. Ellen DeGeneres
This is a head shot of the comedian from the the start of her career. DeGeneres started performing stand-up comedy in her early 20s at small clubsin her native Louisiana, and in the early 1980s she began to tour nationally.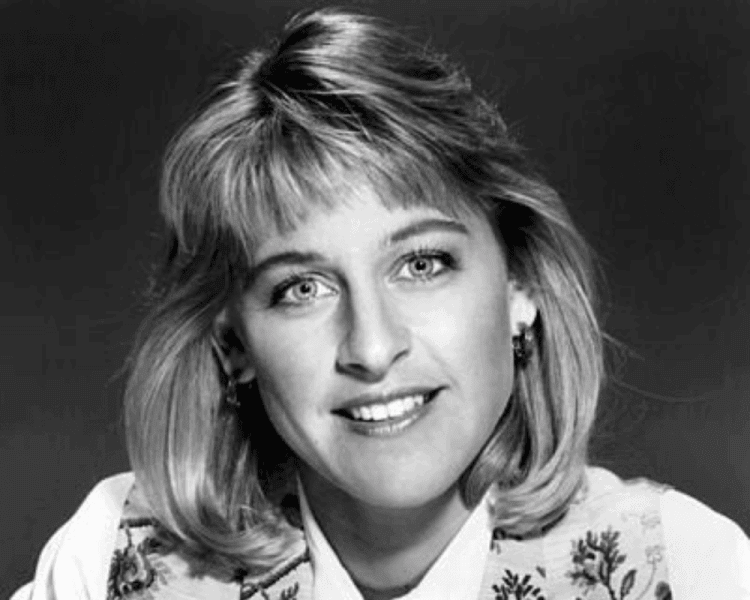 Today DeGeneres is one of the most successful comedians in the US, and is heading The Ellen DeGeneres Show since 2003.
6. Hugh Grant
Even though he was a kid in this photo, it seems like Hugh Grant has always been so...Hugh Grant! The British actor starred in his first film in 1982, but when he was then approached by a talent agent offering to represent him, he first declined.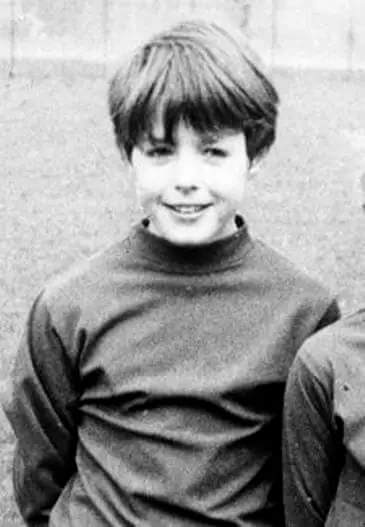 Luckily for us, he later reconsidered, thinking that acting for a year would be a good way to save some money.
7. Vin Diesel
Vin Diesel is one of Hollywood's hottest men, who's known for his great physique and shaved head. However, this picture, from Diesel's 1985 senior class yearbook - when he was still better known as Mark Sinclair - shows him with a full head of hair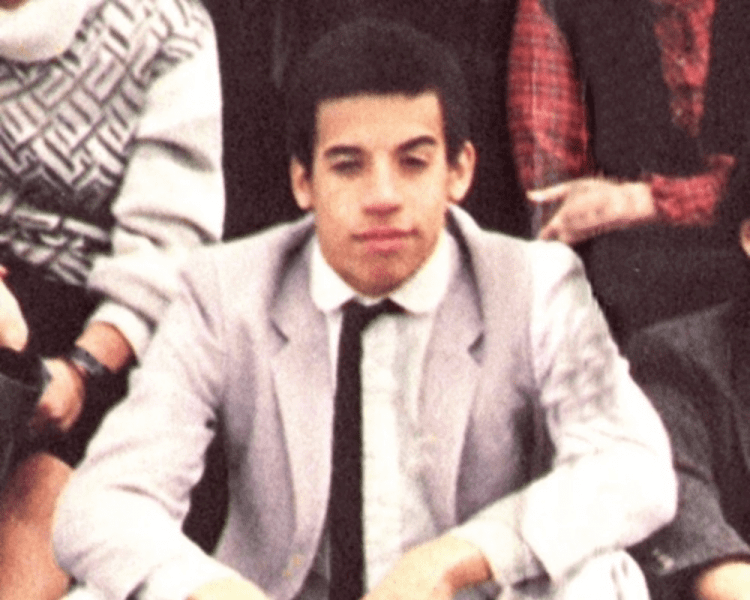 Diesel began his acting career a few years later, but struggled to get roles until he produced and starred in Multi-Facial (1995), a short film which attracted the attention of director Steven Spielberg, who cast him in Saving Private Ryan.
8. Jodie Foster
The Academy Award winner started her career as a 3-year-old child model, and in the 1970s began acting in movies, with her breakthrough role being Martin Scorsese's Taxi Driver (1976).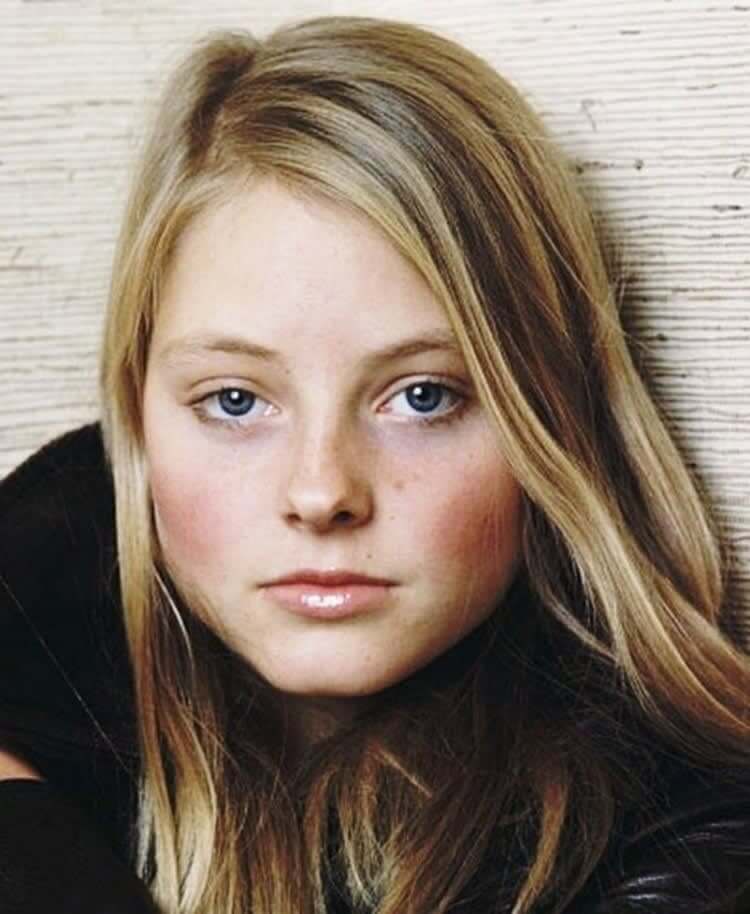 This photo shows a strikingly beautiful young Foster in 1979, a year before she started school at Yale.
9. Sean Connery
The renowned Scottish actor actually started his career as a bodybuilder in the 1950s.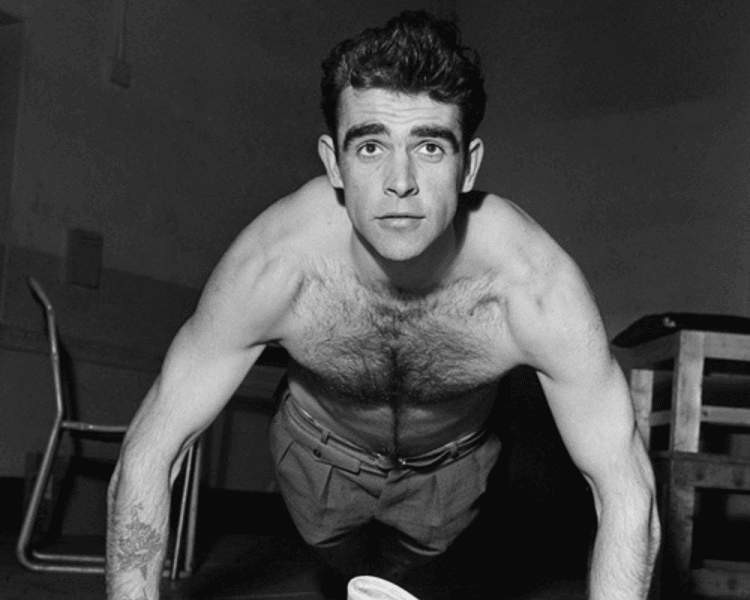 It was during a bodybuilding competition in 1953 that one Connery's competitors mentioned that auditions were being held for a production of South Pacific, and he decided to try his luck. Connery succeeded to land a small part in the play - and the rest is history. 
10. Hillary Clinton
Before she bacame the First Lady, and later the Secretary of States, Clinton was a student Wellesley College and even gave the commencement speech for her class in 1969.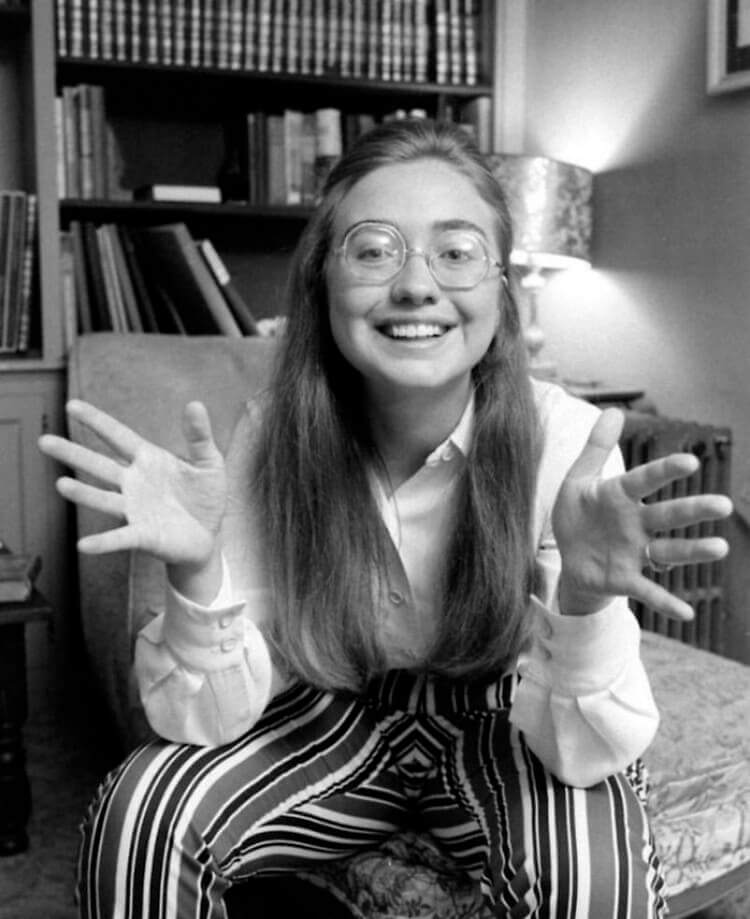 In 2017 she returned to her alma mater to give another commencement speech, this time as a presidential nominee running a campaign against Donald Trump. 
11. Freddie Mercury
One can't miss the famous overbite of the legendary Queen front man, even in a picture of him as a schoolboy. 
Mercury was, reportedly, always self conscious because of his teeth, but decided not to ever fix them as he believed they contributed to his unique vocal "range". 
12. Tom Hanks
This adorable young boy is a young Tom Hanks, today of one of the most popular film stars in the world. According to the actor, at school he was a good, kinda geeky, kid. In high school he started performing in school plays, and later dropped out of college to intern full time at a theater festival.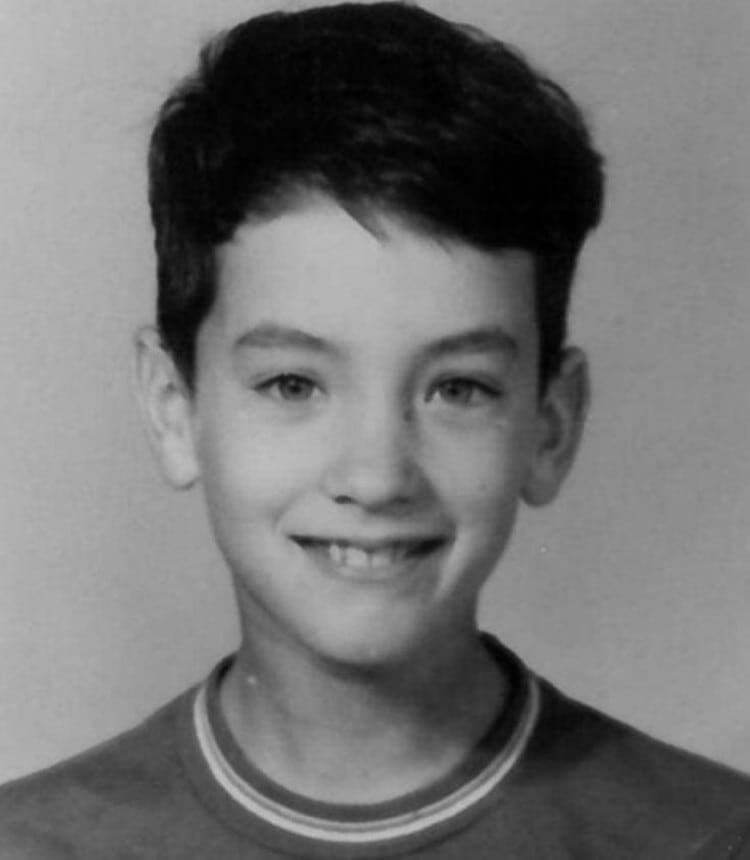 In 2010, Time magazine named Hanks one of the "Top 10 College Dropouts."
14. Zac Efron
This cringy-yet-cute photo shows 15-year-old Zac Efron proudly showing his crimped hair. Luckily, this hairstyle didn't last long, and Efron became a successful teen actor and a Disney star.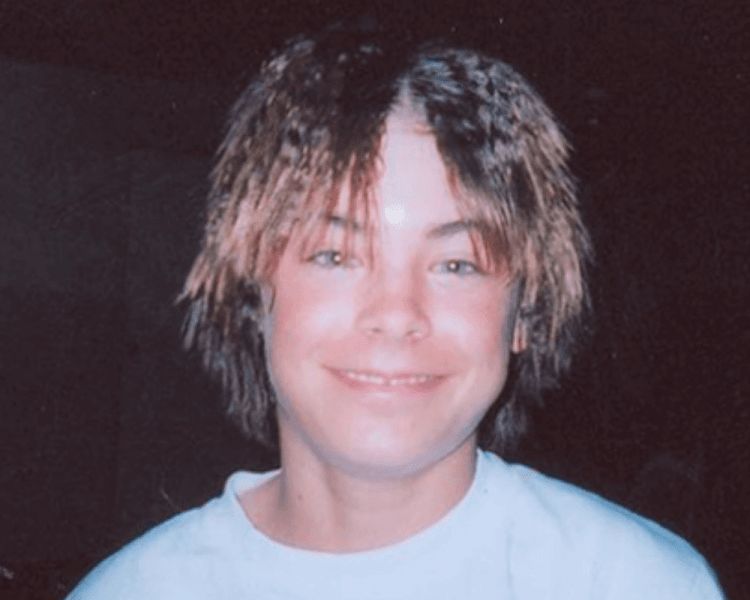 In 2019 he changed direction from his usual carefree musicals and comedies, and starred as serial killer Ted Bundy in Extremely Wicked, Shockingly Evil and Vile.
13. Emma Stone
In the case of young Emma Stone, a habit of persistent thumb sucking as a child caused her to develop an overbite, which was fixed by wearing dental braces for 7 years.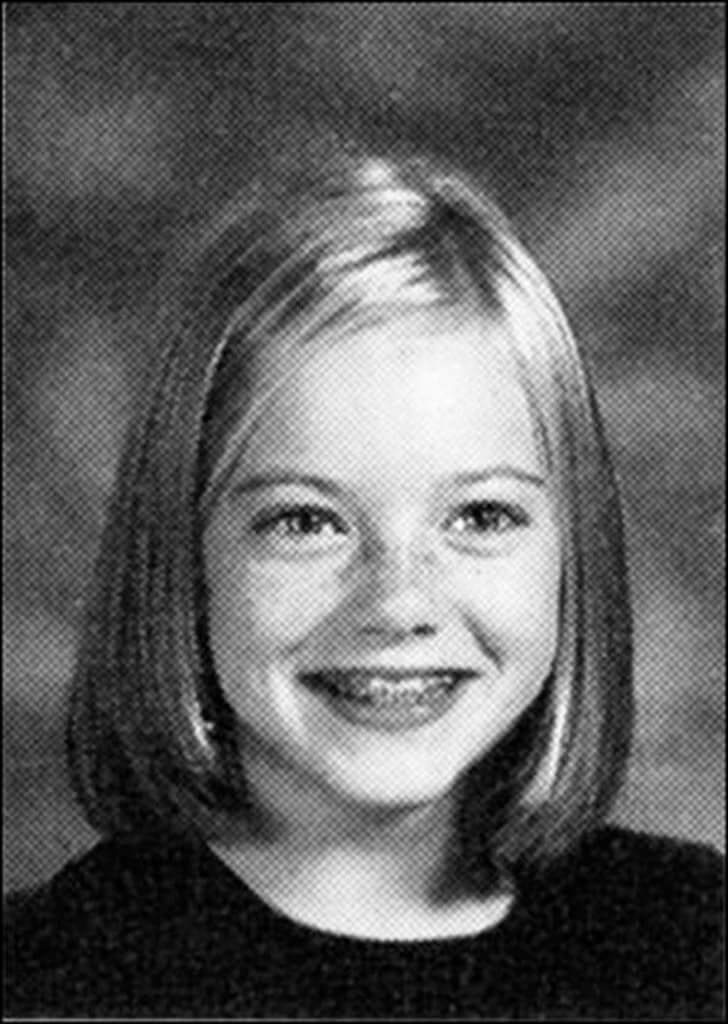 Nowadays Stone is sporting a shiny smile and a stellar career - including an Academy Award for her role in La La Land. 
15. Steve Buscemi
This Pat Davidson look-alike is a actually a young Steve Buscemi: This picture was taken in 1980, when Buscemi joined the NY Fire Department as a fire fighter.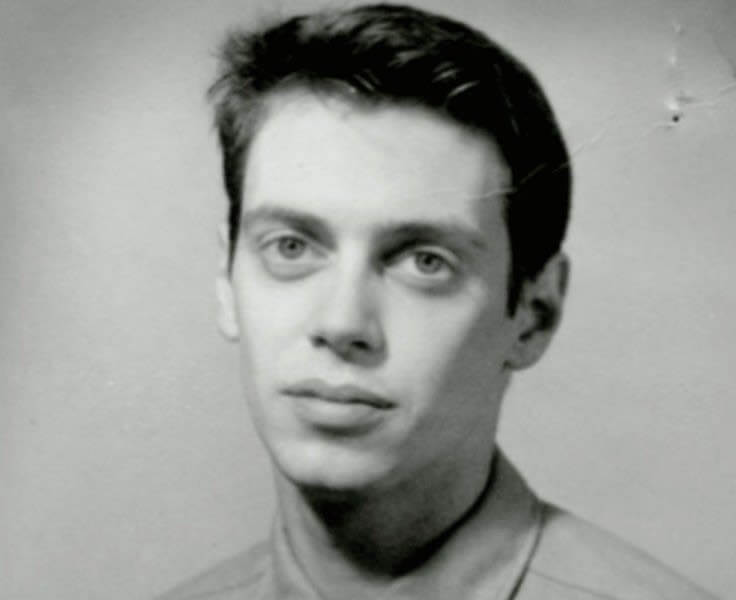 He served in FDNY for four years, but then decided to try and pursue a career in acting, and in made his acting debut in the 1985 film The Way It Is.
16. Katy Perry
This is a picture of an almost unrecognizable 17-year-old Katy Perry, taken on the tour bus during her very first tour in 2001, when she was still using the name Katy Hudson (her given name).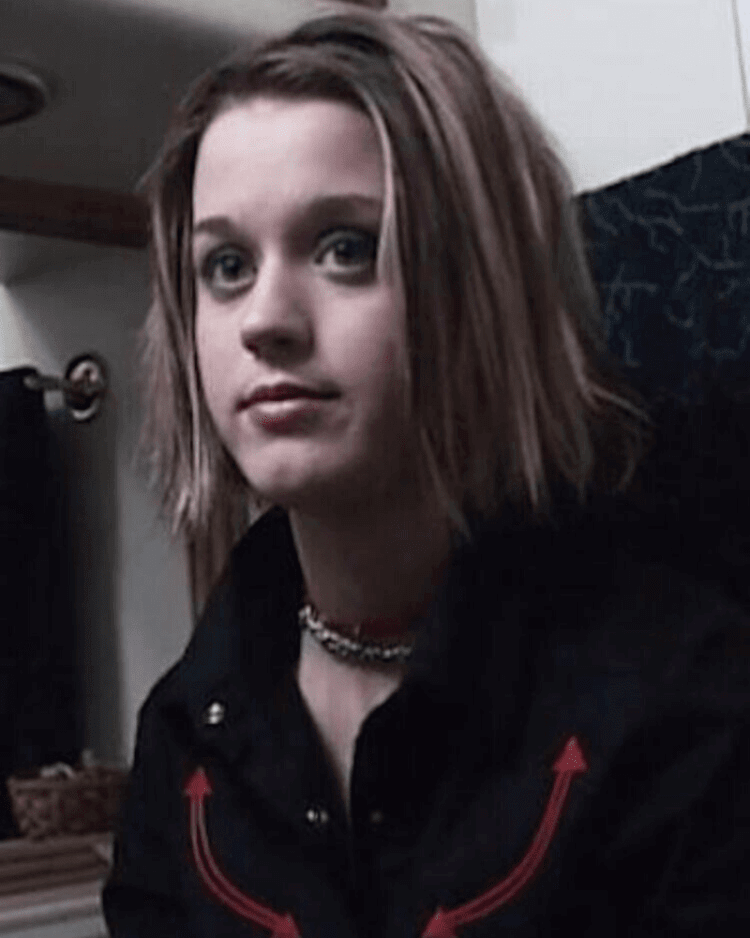 In those days Perry was focused primarily on gospel music, but two years later she moved to Los Angeles and started transitioning to a more secular style. 
17. Beyoncé Knowles
Even Queen Bey had to start somewhere. This photo is of a 10-year-old Beyoncé, two years after she's already become a member of girl group, Girl's Tyme, later to be called Destiny's Child.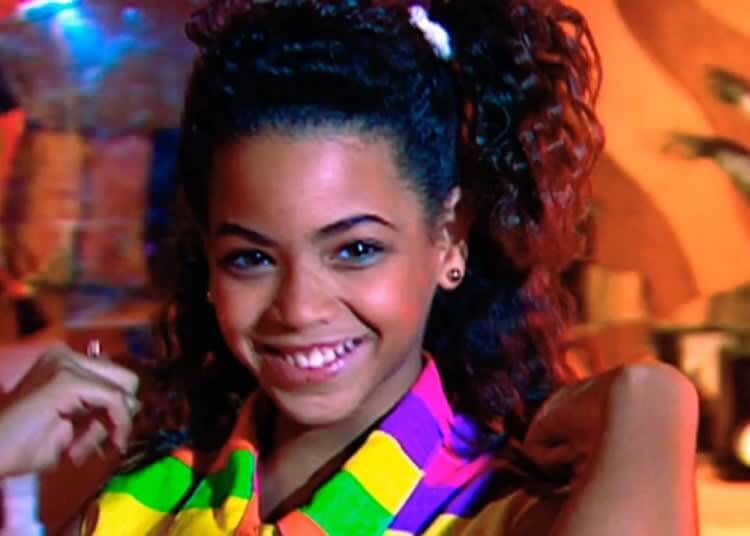 Never-before seen footage of the group was sold in 2016 for more than 3 million dollars.
18. Christian Bale
Here's a picture of the young Christian Bale years before he became Batman, with a 1990s-appropriate haircut.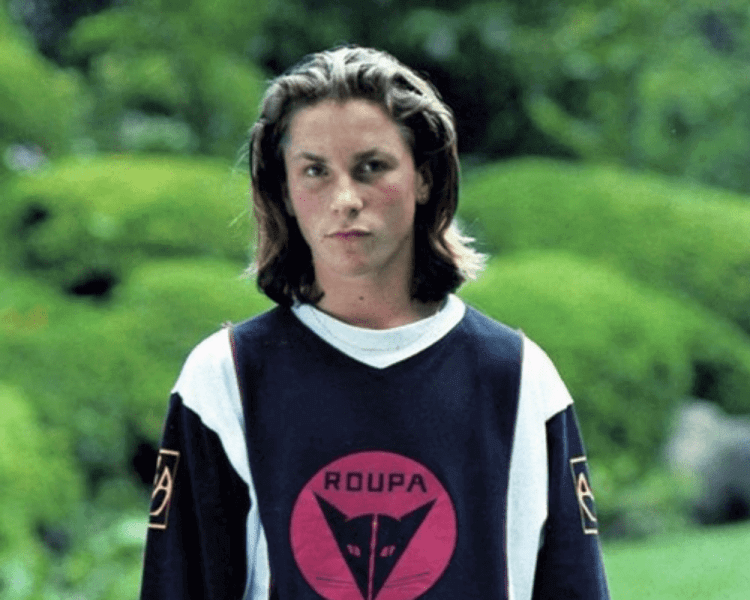 By this point the English actor had already gotted his breakthrough role in Steven Spielberg's Empire of the Sun (1987), which ​earned him widespread critical acclaim.  
19. Morgan Freeman
The Academy Award winner began his long career in the 1970s, and his first recognition was when he was part of the cast of the successful children's program The Electric Company.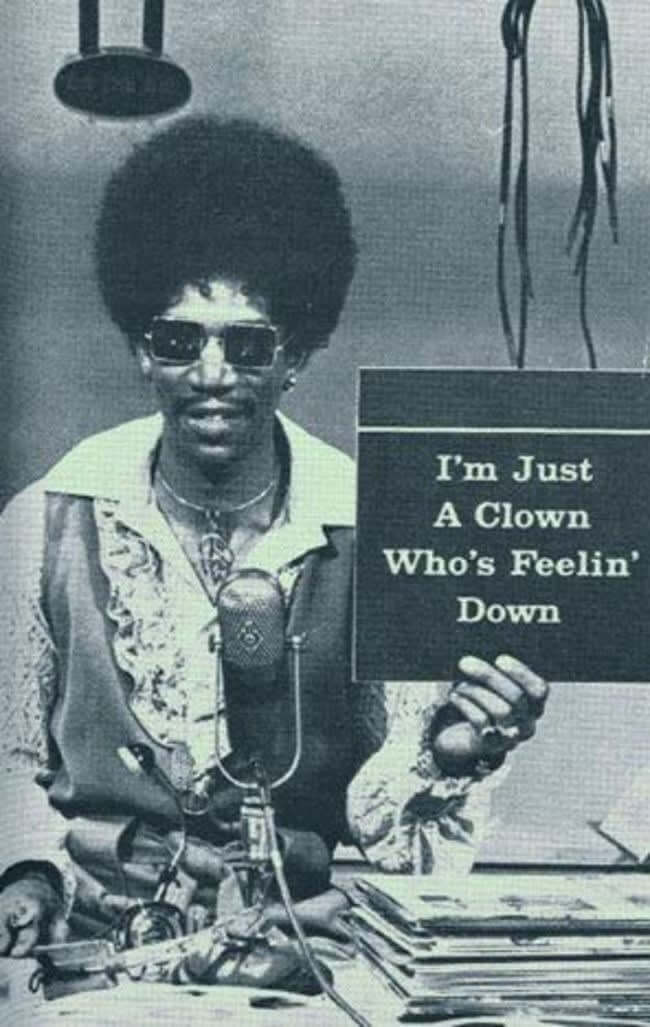 He had a few recurring roles on the show, among them a hipster that loved reading, a DJ, Dracula and a vegetarian vampire. 
20. Barack Obama
Before his political awakening, the 44th American president was a student at Occidental College in Los Angeles, a school he chose after learning that a girl he liked also went there.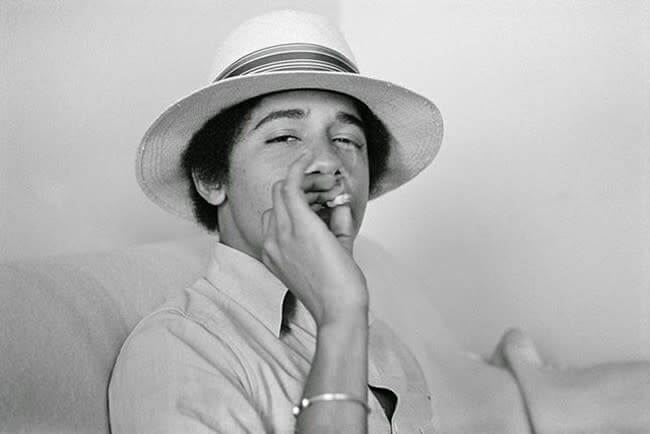 Obama has written and talked about using alcohol, marijuana, and cocaine during his teenage years. 
21. Taylor Swift
The pop star started writing songs and playing guitar while she still a kid, and when she just 14 years old the whole Swift family relocated to Nashville so she could pursue her dream of becoming a country singer - a bet which certainly paid off.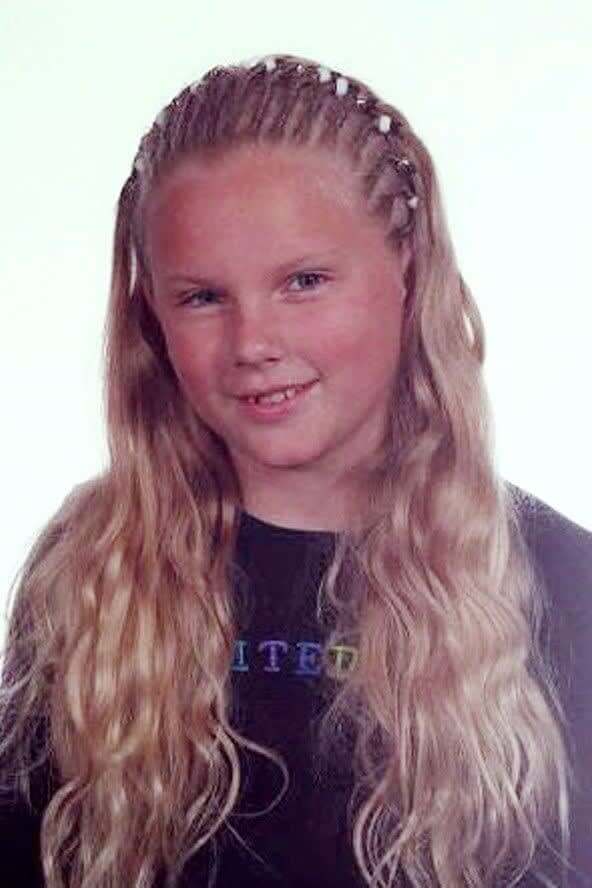 In this yearbook photo, Swift (+ amazing cornrows) is almost unrecognizable. 
22. Dolly Parton
Another natural born singer is American music legend Dolly Parton. This photo was taken in 1965 when Parton was working as a songwriter, two years before the singer's debut album, Hello, I'm Dolly, came out. 
Parton belongs to a select group of people who have received at least one nomination from the Academy Awards, the Grammy Awards, the Tony Awards, and the Emmy Awards. In 1999, she was inducted into the Country Music Hall of Fame.
23. Robert De Niro
This cute looking boy went on to become one of Hollywood's greatest actors.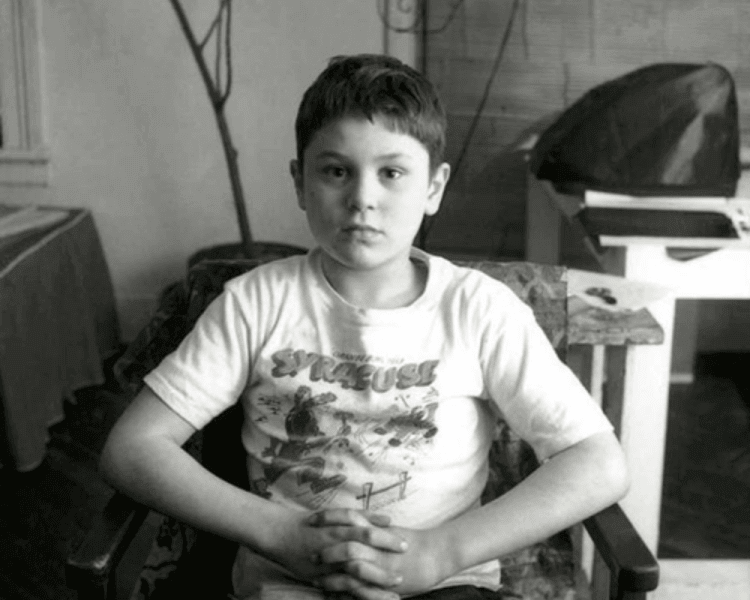 De Niro first acting experience at the age of 10, in a school production of the Wizard of Oz, and when he was 16 decided to drop out of high school to pursue a career as an actor. He got in his first professional acting role four years later, in the film The Wedding Party (1969).
24. Angelina Jolie
Jolie made her acting debut as a 5-year old, alongside her father, actor Jon Voight, in Lookin' to Get Out. As a teenager, Jolie tried to get acting jobs but was often told her style was "too dark".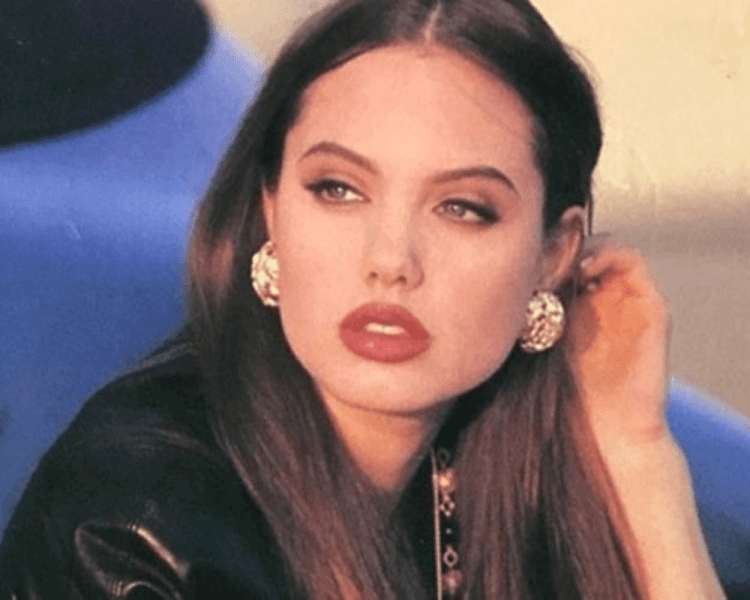 While she starred in some low-budget films, Jolie also worked as a part-time model. This photo from the 1990s is another proof to Jolie's unique beauty. 
25. Ewan McGregor
This photo is from the Scottish actor's yearbook, where he was voted as Best Senior Instrumentalist, and is appropriately photographed with his French horn.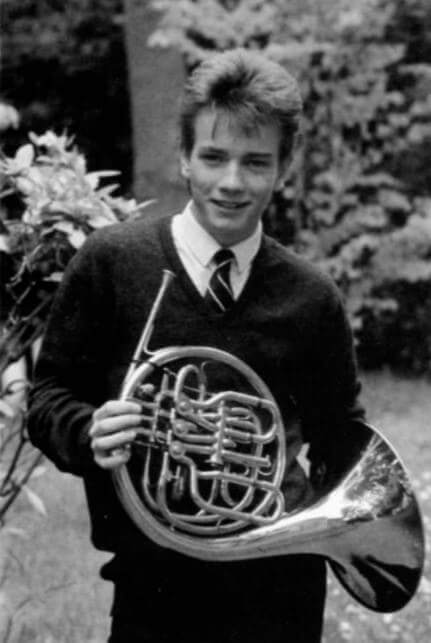 McGregor has made a long way since his days in the school orchestra, with roles on hit movies like Moulin Rouge and Star Wars. 
26. Arnold Schwarzenegger
This photo shows a wide-eyed Arnold Schwarzenegger, then a successful bodybuilder, on his first trip to New York in 1968. Two years later he won the Mr. Olympia competition and at 23 he became the youngest person to ever become Mr. Olympia, a record he holds to this day.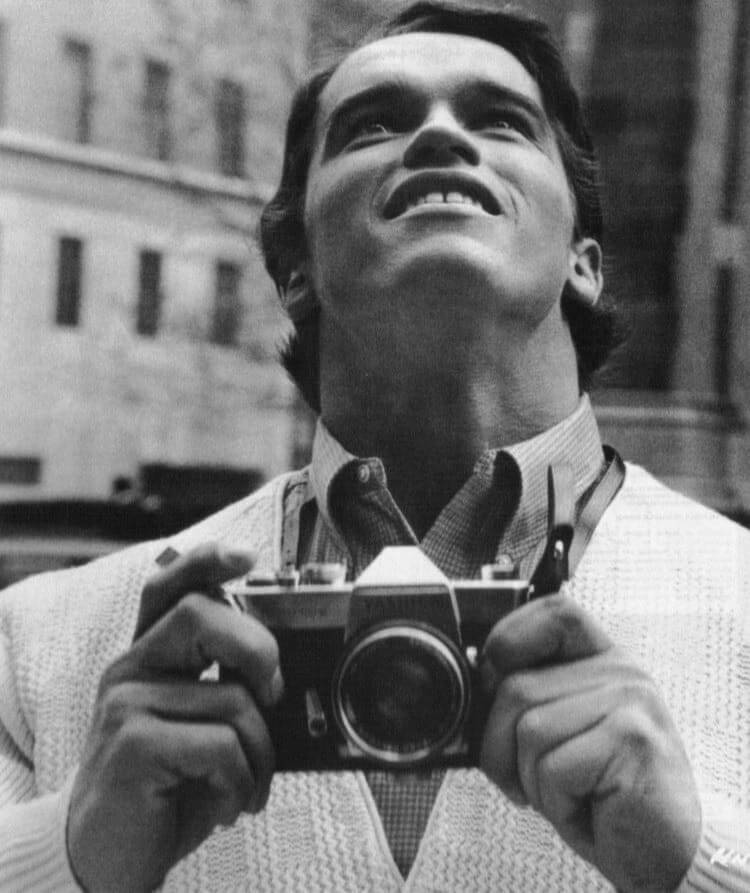 Since that first trip to NY, the Austrian-born Schwarzenegger became one of Hollywood's biggest stars, and even went on to be elected as Governor of California.  
27. Robin Williams
Young Robin Williams was bullied by classmates because he was overweight, but eventually joined the high school drama club and said that comedy helped him become more confident at school.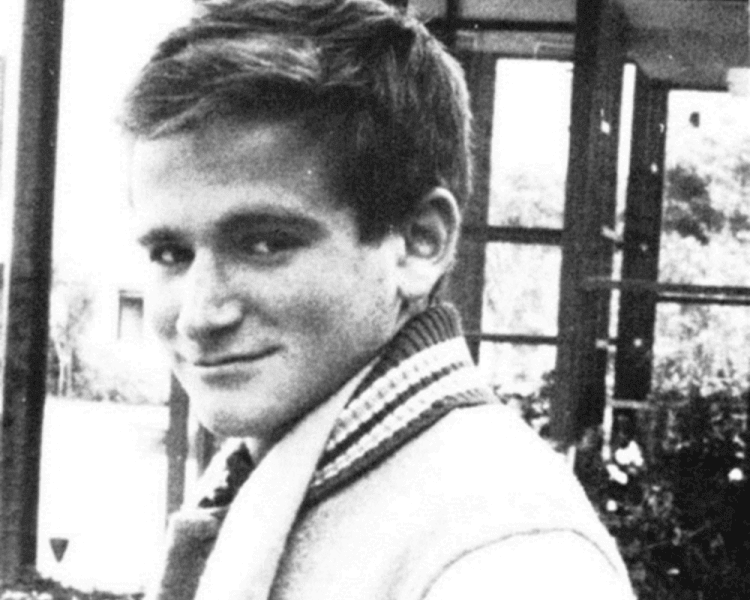 When he was 25 he started performing comedy in San Francisco and Los Angeles, and gained a great following before being offered a role on Mork & Mindy. 
28. Sarah Silverman
This photo shows a 17-year-old Sarah Silverman waiting at the open auditions for the musical Gypsy in Broadway, New York.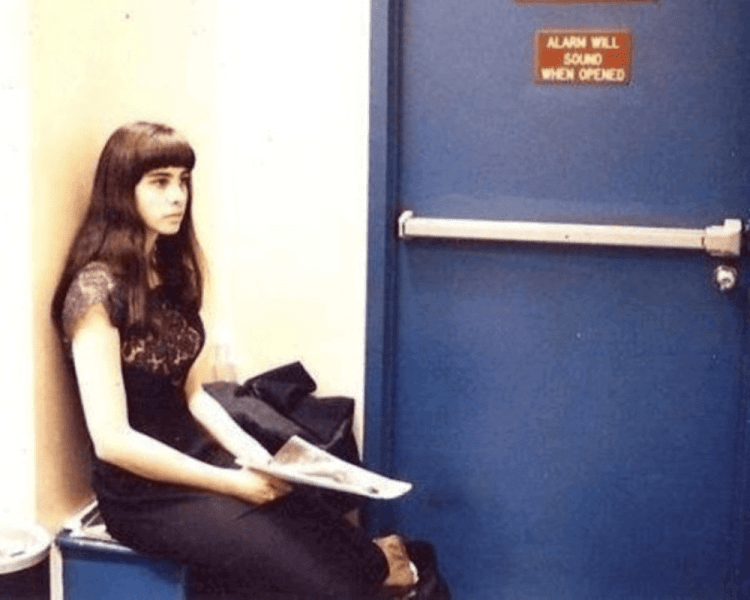 Around the same age she started performing stand-up in Boston and later in New York, and eventually rose to become one of the most successful female comedians in the US.
29. Audrey Hepburn
From the left: "chorus girls" Audrey Hepburn, Enid Smeedon and Aud Johanssen, having fun between scenes. The actresses were taking part in the musical Sauce Tartare at the Cambridge Theater, London 1949.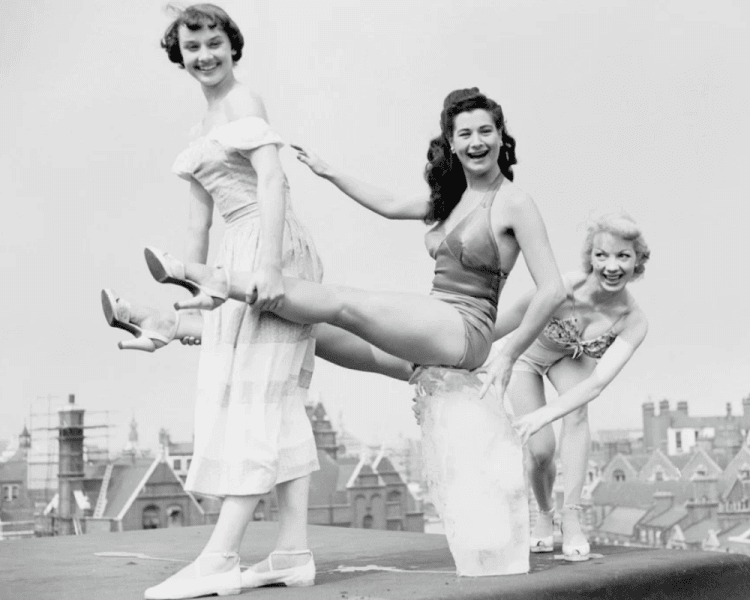 This was one of Hepburn's first, small acting roles, a few years before her breakthrough role in Roman Holiday (1953) and later Breakfast at Tiffany's (1961).
30. Miley Cyrus
Miley Cyrus's given name was actually Destiny Hope, but because she was such a happy toddler she got the nick name "smiley", later shortened to "Miley". In 2011 she officially changed her name to Miley.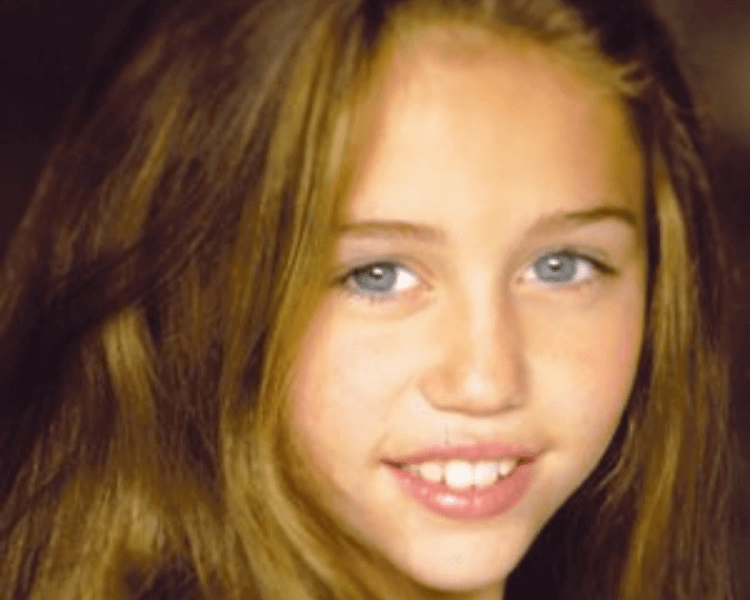 As the daughter of country singer Billy Ray Cyrus, Miley was exposed to the entertainment business from an early age, and got her first acting role when she was just 9, on her father's show Doc. 
31. Jim Carrey
Here's an early head shot of comedian Jim Carrey, who looks a lot like he still does today. Carrey took an interest in stand-up from an early age, and started hanging out at comedy clubs in his native Toronto as a teenager, and gradually moved from open-mic nights to regular paid shows.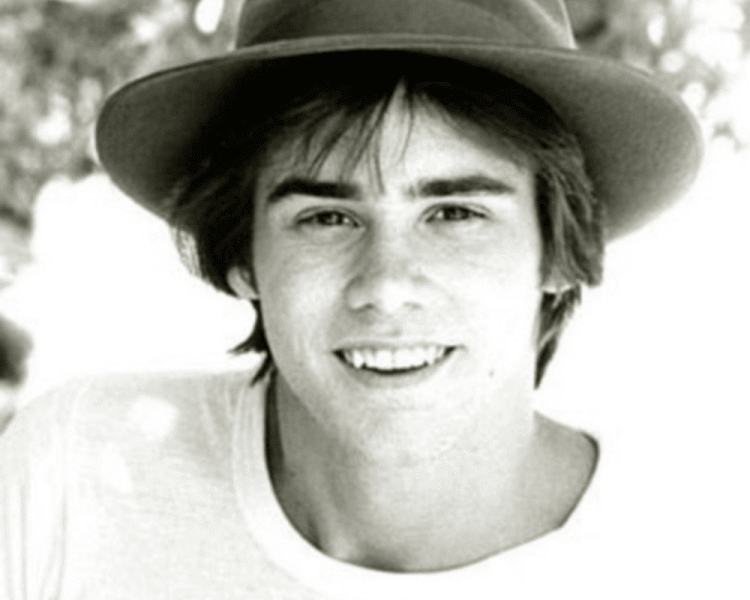 His big rise to fame came in the mid-1990s, with movies like Ace Ventura: Pet Detective, The Mask, and Dumb and Dumber.
32. Justin Timberlake and Ryan Gosling
This is a real gem: an early photo of not just one, but two celebrities as cute little kids. On the left is singer Justin Timberlake, and on the right actor Ryan Gosling.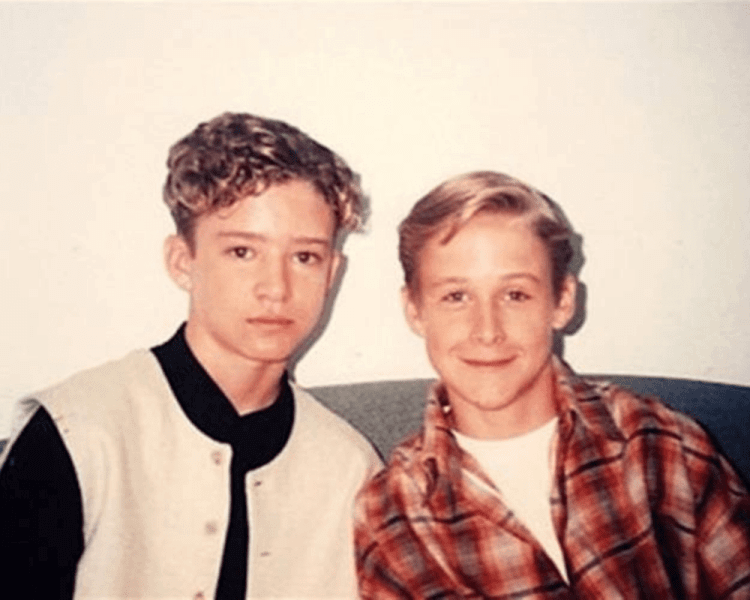 The two were members of the The show The Mickey Mouse Club,  years before they both became mega celebs as adults. 
33. Brad Pitt
Recognize the cute blond kid in the front row center? It's heartthrob and Oscar-winner Brad Pitt.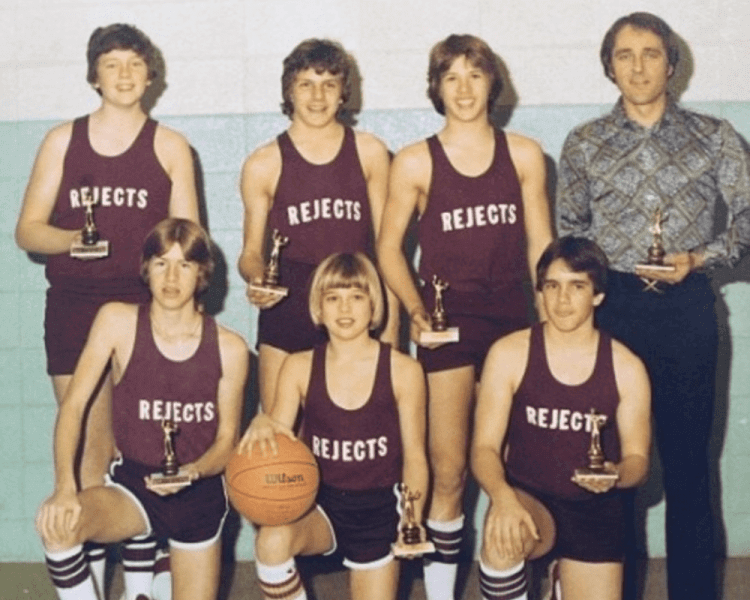 The story behind the photo is also a cute one: when Pitt and his friends were'tn selected to the first basketball squad at Cherokee Middle School in Springfield, Missouri, they decided to form their own group of "Cherokee Rejects" - hence the names on the tanks.  
34. Frank Sinatra
The singer was known to hang with some not-so-nice people, but most people don't know that he actually had an arrest record - and a mugshot to match.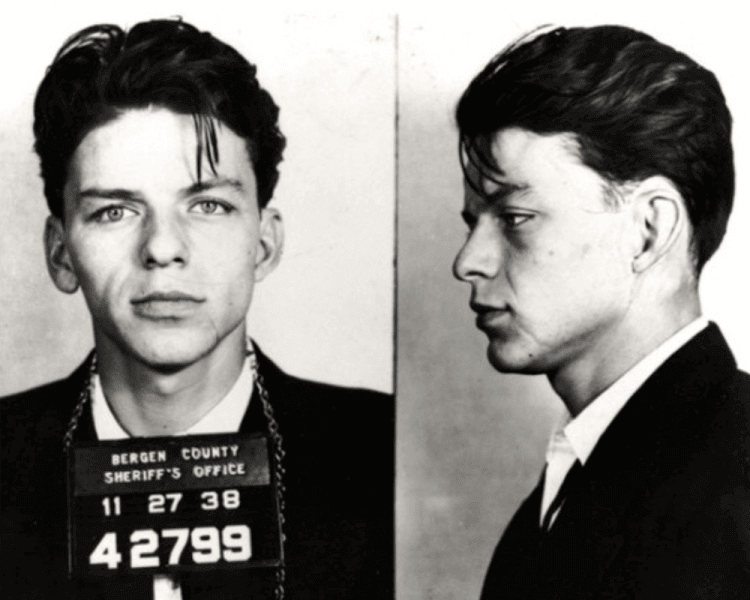 In 1938, a 23-year-old Sinatra was arrested in New Jersey on charges of "seduction and adultery", after old girlfriend accused him of a breach of promise. The case was dismissed in court in a year later.
35. Bill Gates
Another surprising mugshot is the one of Bill Gates, who was arrested in 1977 in New Mexico for a traffic violation (driving without a license and not stopping at a stop sign).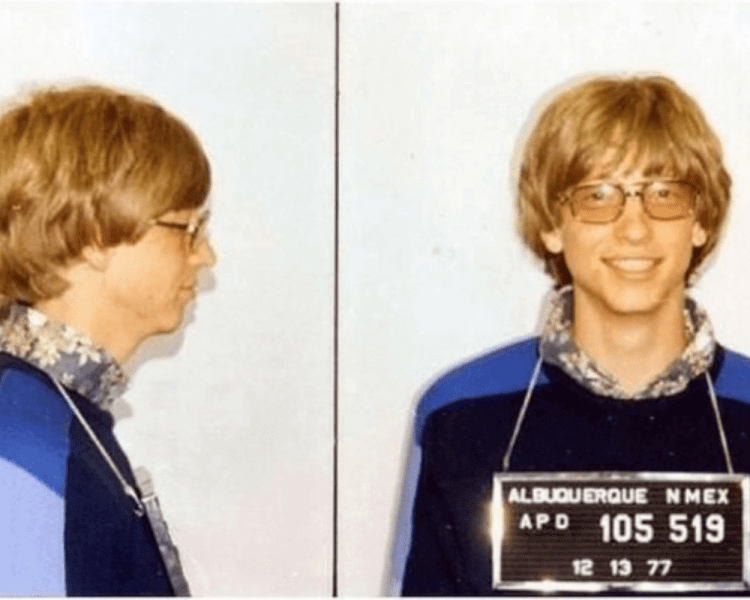 Then 22-year-old, Gates went on to co-fund Microsoft just a few years, and has since become one of the richest and most successful people in the world. 
36. Bill Clinton
Former president Bill Clinton was well-known for playing the saxophone, and even did it once on The Arsenio Hall Show as part of his 1992 campaign.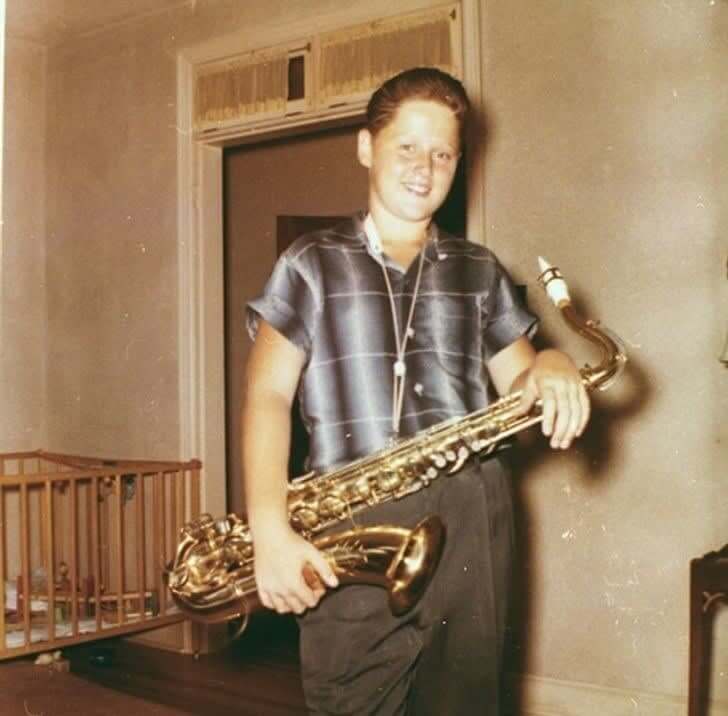 As a kid, Clinton who was an avid saxophone player and was on the school's chorus, but after considering pursuing a career as a professional musician he decided to choose public office instead. 
37. Meryl Streep
Years before she became on of the greatest actresses of our time, in 1966 Streep was a busy high school student: she was a member of the varsity cheer-leading squad, chorus, and the school's newspaper staff.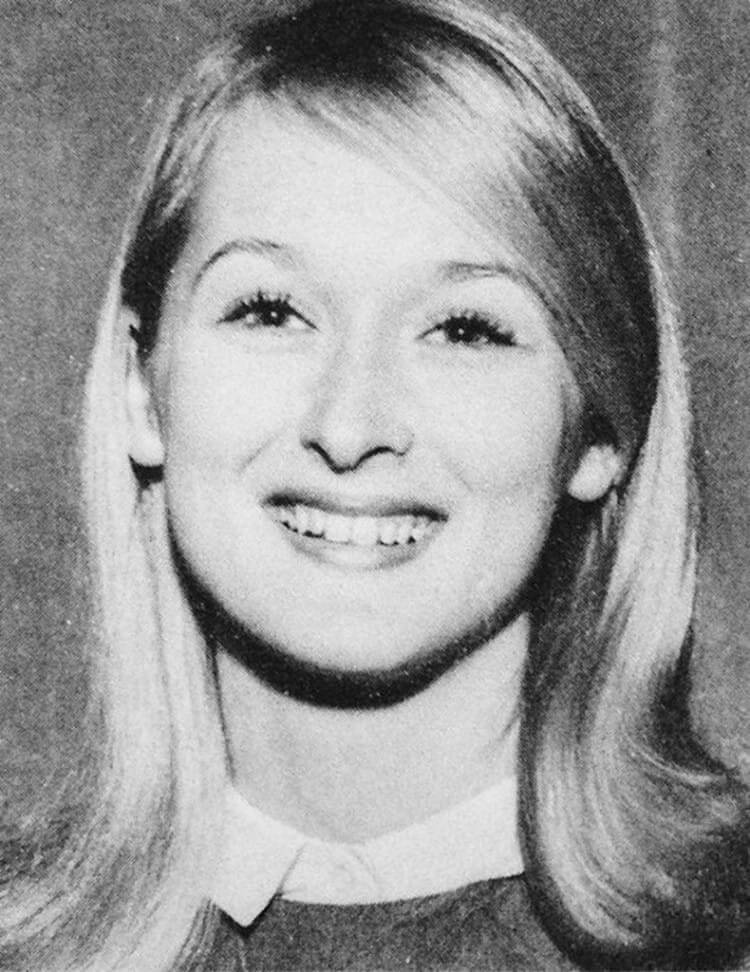 She hasn't really demonstrated any interest in acting until joining a play as a student at Vassar College, and later continued on to study at Yale's School of Drama. 
38. Tommy Lee Jones
This good looking chap shows a young Tommy Lee Jones when he was a student at Harvard, in the late 1960s. In addition to studying English and American Literature and performing at the school's drama center, Jones was also playing varsity football as an offensive guard and was quite the local star.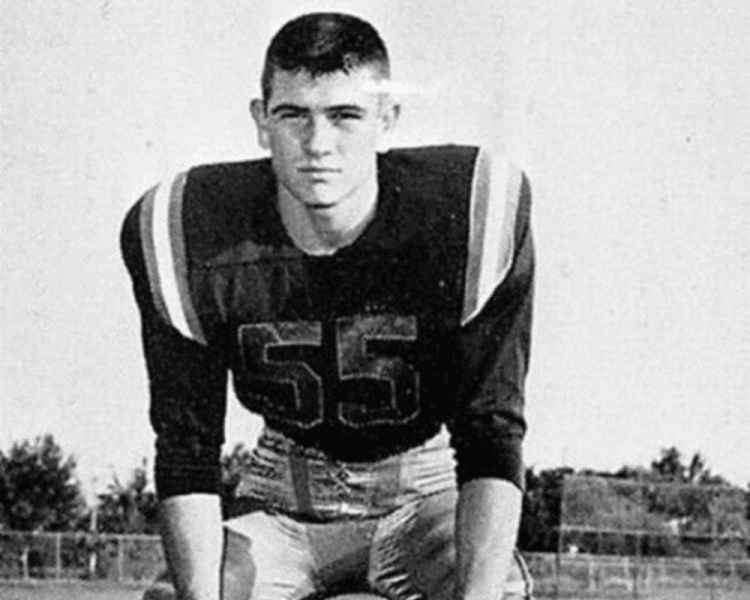 Interestingly, at Harvard Jones shared a room with future vice president, Al Gore. 
39. Michael Jordan
After being recruited by many different college basketball programs, the basketball superstar ended up playing the University of North Carolina at Chapel Hill, where he played ball and also majored in cultural geography.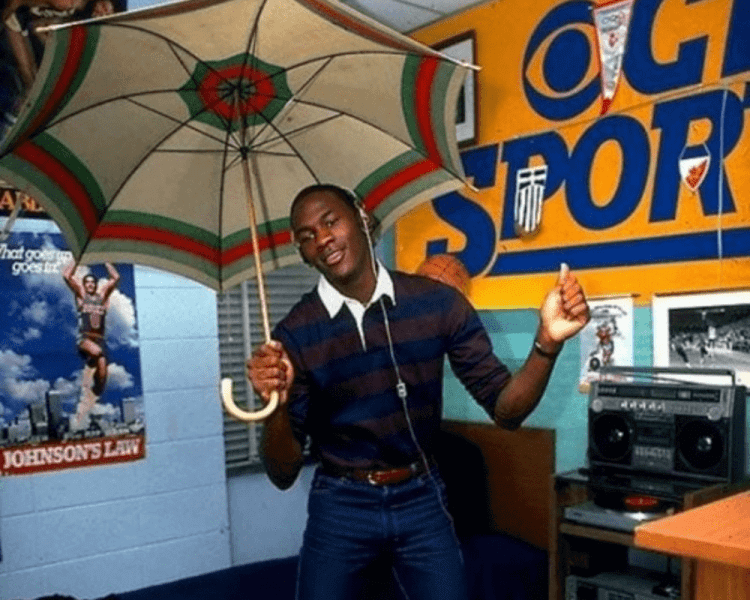 This sweet photo shows MJ as a student in 1982, chilling out at his dorm room (and holding an umbrella, for some reason). 
40. Matthew McConaughey
This photo of Matthew McConaughey with his prom date proves that People's "Sexiest Man Alive" winner actually looked a bit dorky in his high school days (though, definitely still cute).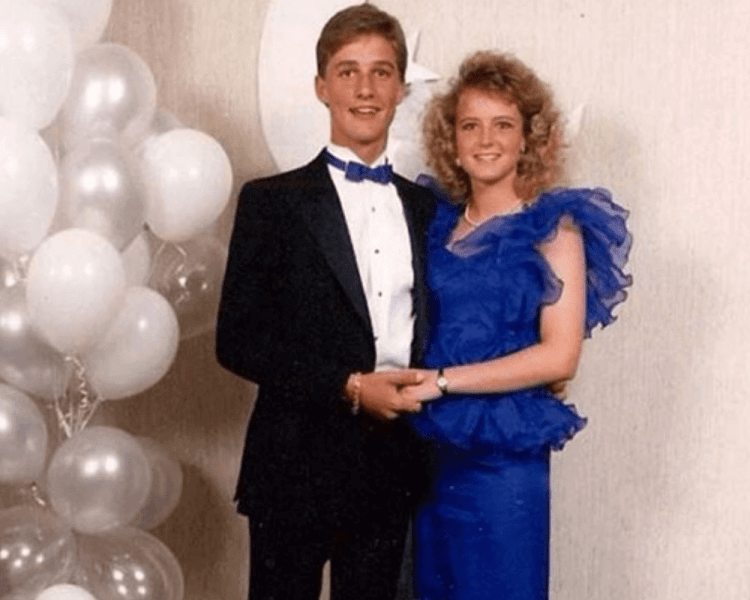 Only a few years later McConaughey got his breakthrough roles in Dazed and Confused (1993) and in A Time to Kill (1996).
41. Milla Jovovich
Before she became a successful actress, Juvovich was a sweet little girl, with adorable pigtails. Born in the USSR in 1975, this photo certainly conveys a Russian style.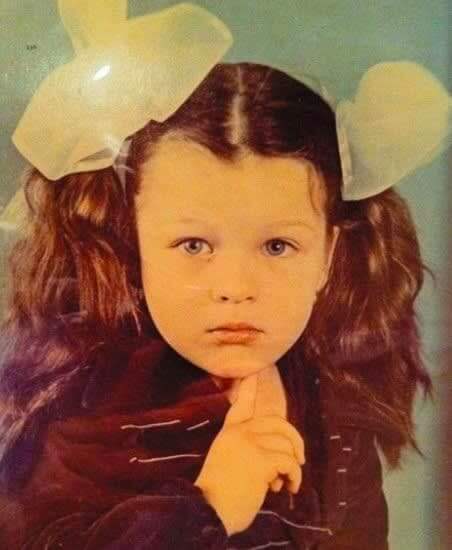 When she was just 5 Jovovich emigrated with her parents to London and then to Los Angeles, California. She started taking acting classes at age 10, and by the time she was 12 she dropped out of school to focus on her acting and modeling career. 
42. Elvis Presley
This photo was taken in 1946, around the time in which an 11-year-old Presley started playing the guitar and being more and more interested in music, though war reportedly "too shy" to perform openly.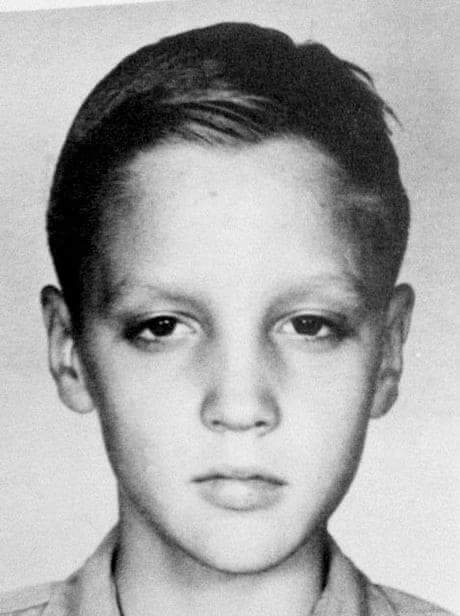 During his junior year he grew his sideburns and styled his hair with oil and Vaseline, and started to stand out among his classmates. He also overcame his initial reluctance and performed in front of his peers in the school's annual contest, and - not surprisingly - became very popular afterwards. 
43. Lady Gaga
Born Stefani Joanne Angelina Germanotta, the Lady has always been interested in music: she started playing the piano at the age of 4, and by the time she was 14 was already performing in open mic nights around New York.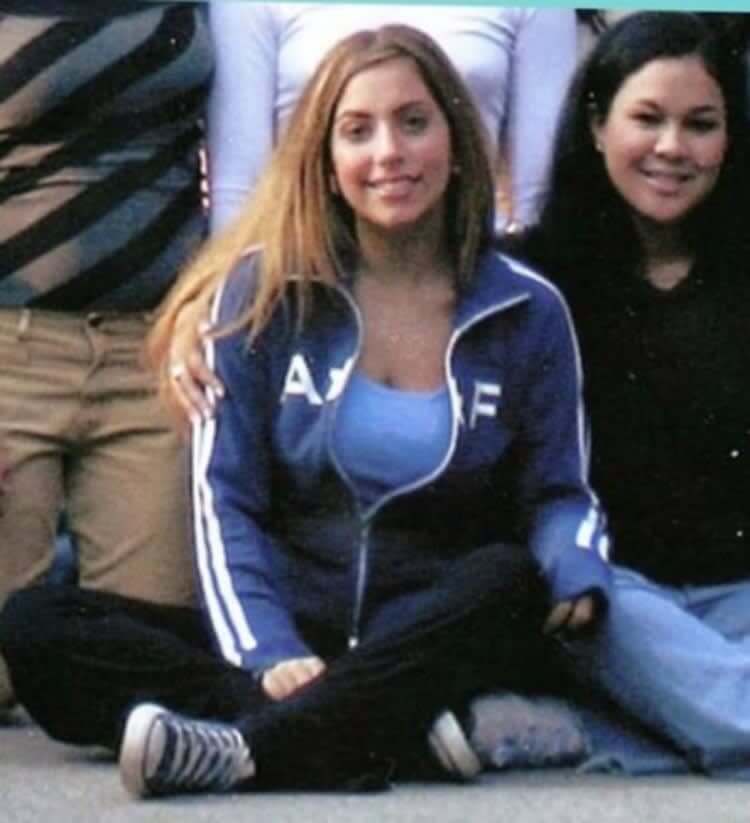 This picture shows Gaga sporting a cute, basic look, a few years before her now-famous - and some, infamous - looks (meat dress, anyone?).
44. Justin Bieber
Before becoming a household name all across the world, Bieber was just a cute blonde kid, living in Ontario, Canada. This photo reveals that even back then he had a cool attitude - and a pierced ear.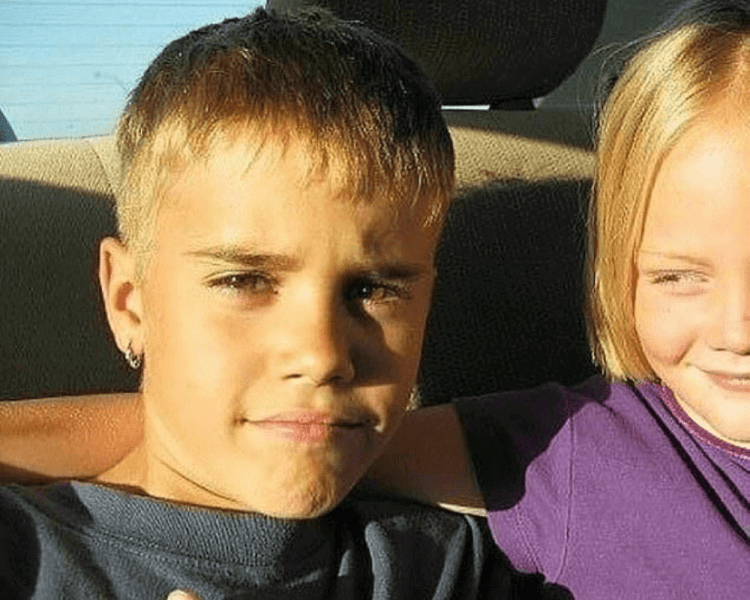 During those childhood years Bieber was busy posting YouTube videos of himself singing and performing, and eventually was spotted by a talent manager - and signed with a record company before her turned 13. 
45. Muhammad Ali
This photo was taken in a Miami swimming pool in 1961, and it shows the legendary boxer, then a 19-year-old, training underwater for an upcoming match.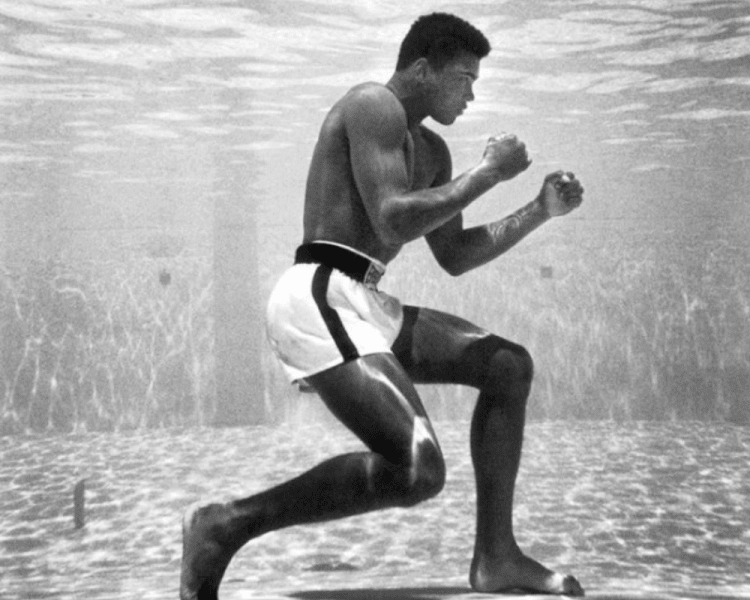 Ali went on to become a three-time heavyweight world champion, and is still regarded as one of the greatest sports figures of the 20th century. Seems like all his hard work at the pool certainly paid off. 
46. Robert Downey Jr. and Mike Tyson
Iron man meets Iron Mike: This photo was taken in 1986, and it shows a 21-year-old Robert Downey Jr., at the beginning of his professional career, and a 20-year-old Mike Tyson, already a boxing celebrity.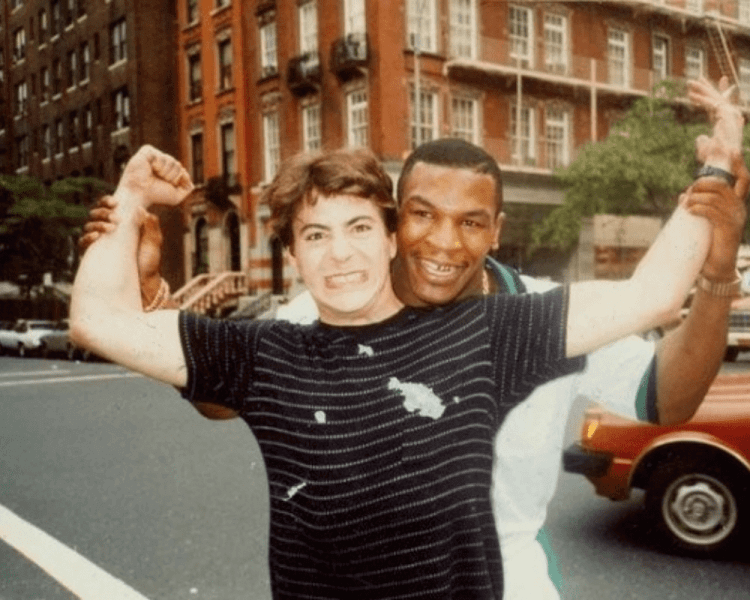 Over a decade later, the two friends collaborated on screen, in the movie Black and White (1999).
47. Stephen Colbert
This good looking chap is the young Stephen Colbert of The Colbert Report and The Late Show with Stephen Colbert. The phote was taken in 1984, when Colbert was a theater student at Northwestern University.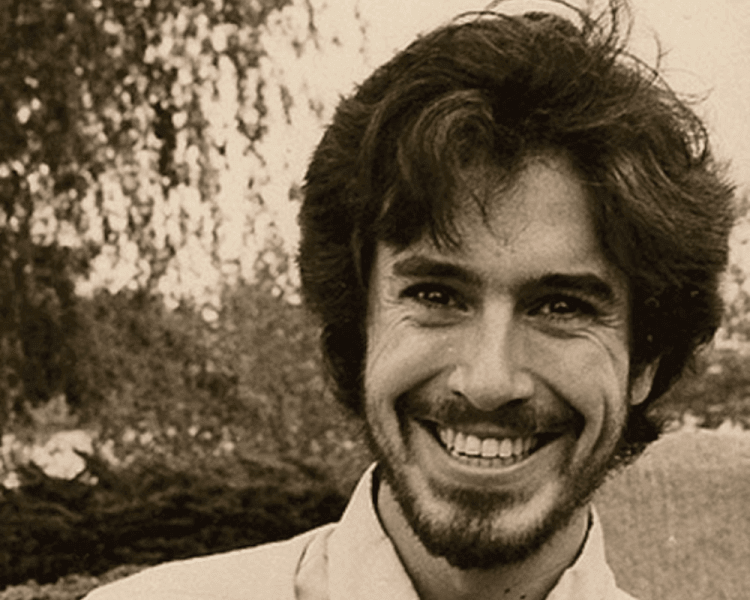 The successful comedian actually had a very sad beginning to life, and has previously shared how he turned to comedy to make his mother happy after a plane crash killed his father and two of his brothers. 
48. Bob Marley
This photo was taken around 1965, when the singer, still dreadlocks-free, just started his musical career as a member of Bob Marley and the Wailers.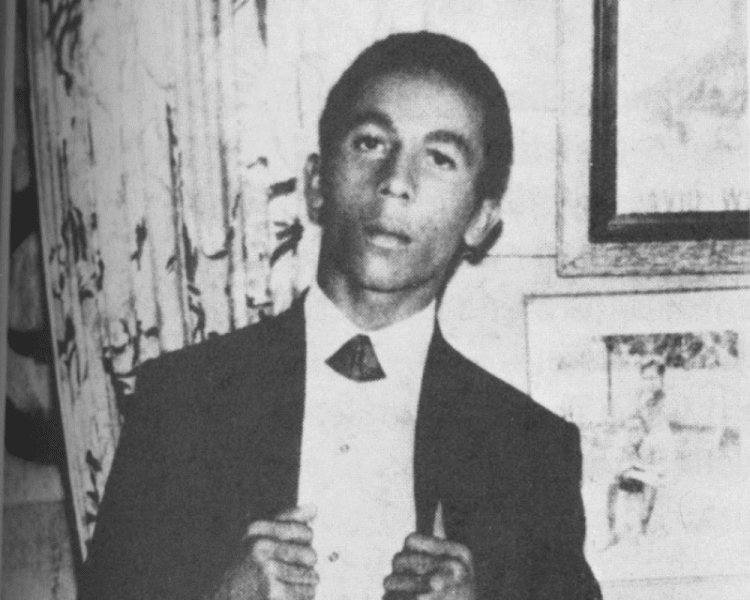 In 1974 The Wailers disbanded, and in 1975 Marley had his first international hit with No Woman, No Cry and quickly became a reggae legend.
49. Scarlett Johansson
Johnasson began her acting career as a kid, and one of her first roles was on the 1992 movie If Lucy Fell, where this photo is from. Two years later she starred in her breakthrough role on The Horse Whisperer, with Robert Redford who described her as "13 going on 30".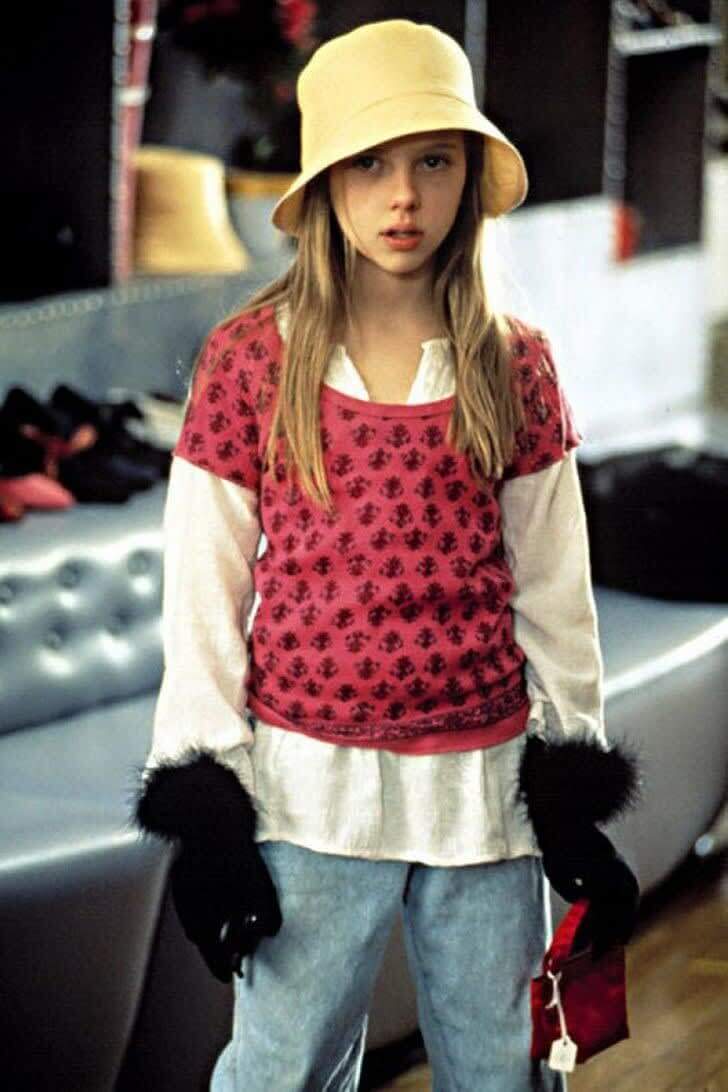 Johansson said that she had always wanted to become a film actress, and as a kid was practicing crying in front of the mirror. 
50. Kim Kardashian
Thanks to Keeping Up with the Kardashians, Kim Kardashian is one of the most famous people in the world, but once upon a time she was just a regular girl. This is her 8th-grade Catholic school picture, and she's seen wearing her school uniform and hardly any makeup.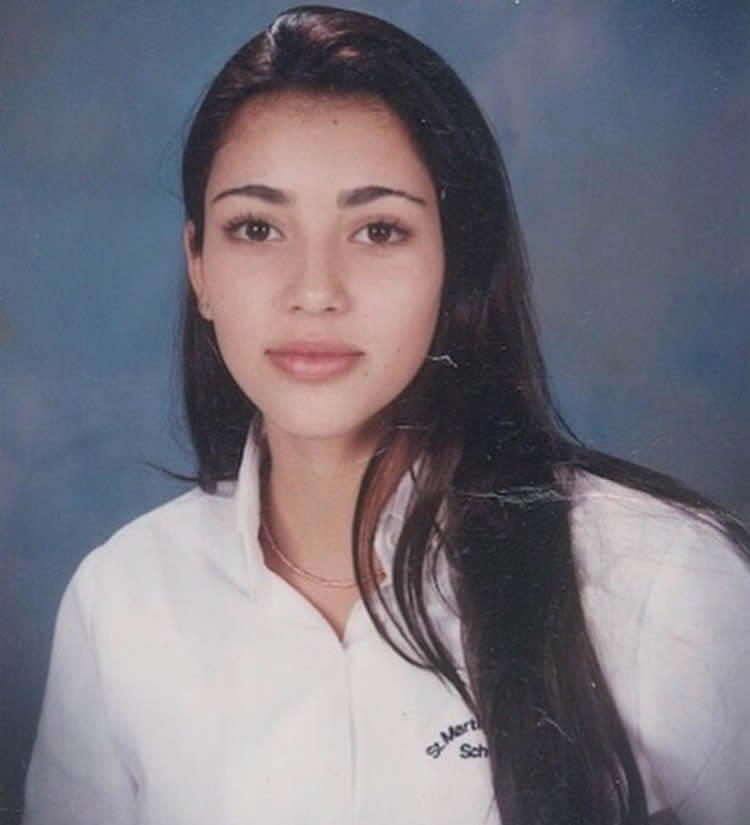 With more than 180 million followers on Instagram, and currently her tumultuous relationship with husband, rapper Kanye West, there's no doubt a lot has changed since those Catholic school days. 
51. Dwayne Johnson
At 15 years old, Dwayne Johnson, aka The Rock, was already standing at an improbable 6'4" (193 cm) and weighed around 215 pounds (97 kg). No wonder that his classmates at his new school actually thought he was a narc and not a real student.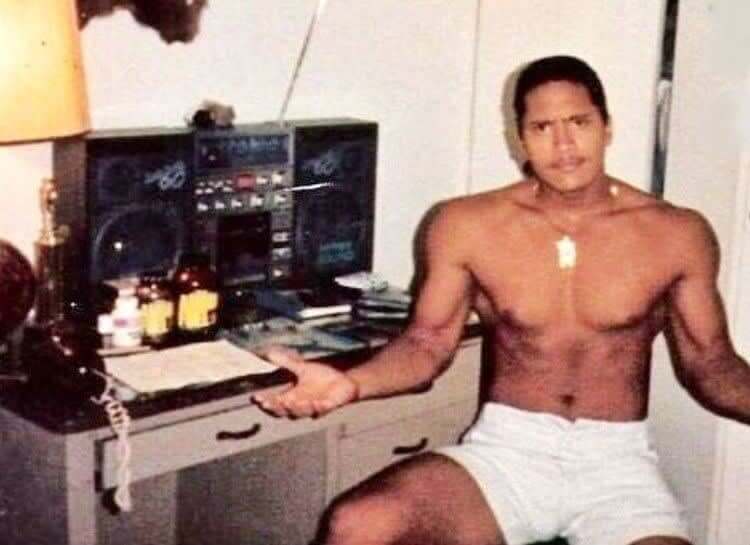 Thanks to his impressive physique, Johnson was able to become a successful football player and wrestler, and later - a Hollywood star. 
52. Shakira
The singer, born Shakira Isabel Mebarak Ripoll, is known for her long blonde locks, but this picture proves that she looked just as good with her natural, black color.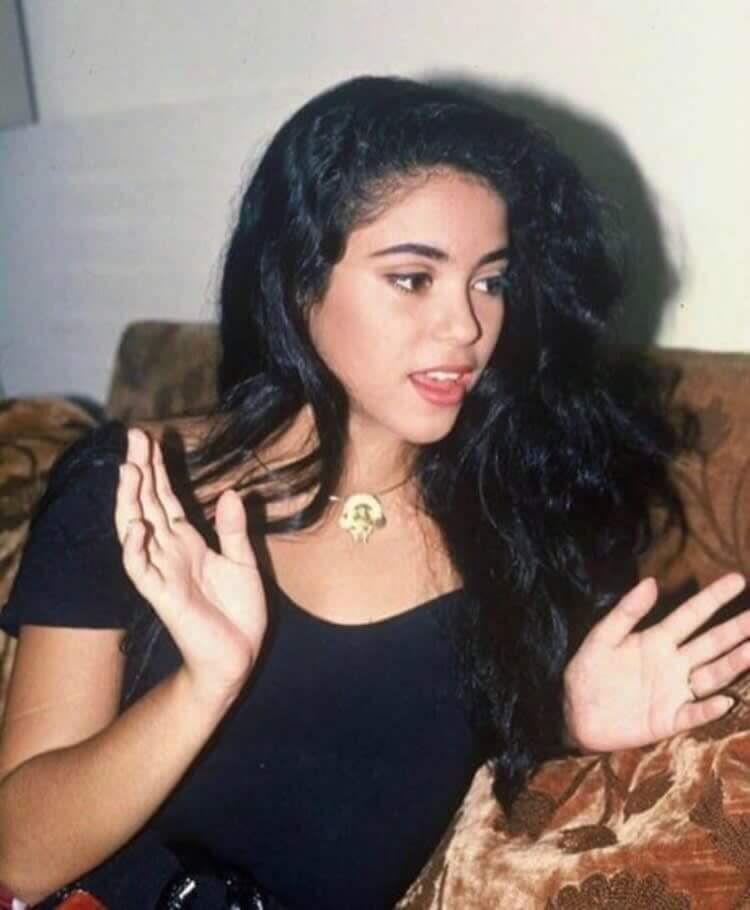 The Colombian singer's black hair also stars on the music videos of her early hits, such as the clip for Estoy Aquí.
53. Julia Roberts
Julia Robert's magical smile is evident even as a kid. Interestingly, the young Roberts never dreamed to become an actress because she suffered from a stutter through most of her childhood.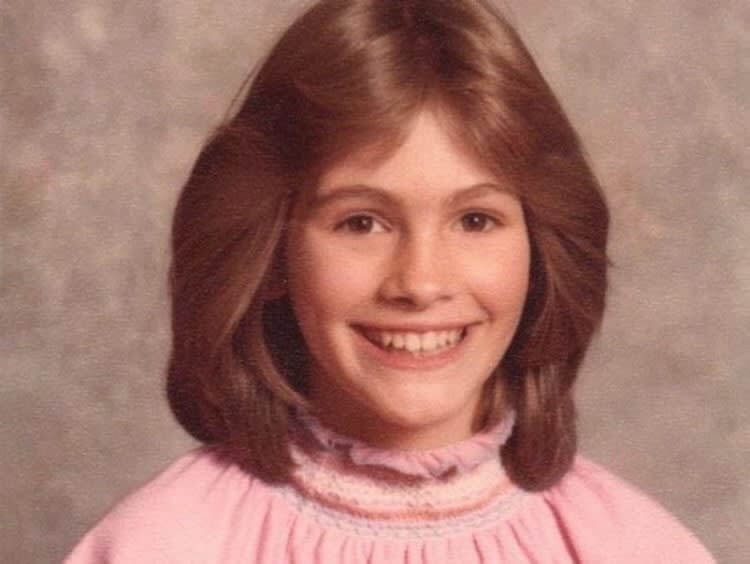 ​Luckily, she managed to overcome stuttering with the help of speech therapy, and has since become one of the highest-paid actresses in the world.